Oil
Lost Oil Jobs Are a Drag
But how much? Because low prices help other sectors.
by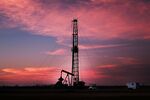 The U.S. economy added 151,000 jobs in January, according to today's nonfarm payrolls report. If it hadn't been for the danged oil bust it would have been maybe 180,000.

That's a guesstimate. There's no January data available yet for several of the oil-related employment categories, so I assumed that industry job losses continued at December's pace. Then I used a rough multiplier to get at the impact of oil-and-gas job losses on other industries.