Refugees
Hacking the Refugee Crisis
Smartphones and apps could transform how we provide humanitarian aid.
by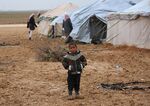 When world leaders gathered in London for a massive donor conference on the Syrian refugee crisis Thursday, many of the most difficult questions they faced were ones they are least equipped to answer. How can they avoid creating a lost generation of kids who might be unemployable or, worse, radicalized? How can they equip adult refugees with the skills and credentials necessary to build a life outside Syria? Some of the more compelling answers could be heard just a few miles across town from where the donors' conference was held.  
In a makeshift studio in east London's Shoreditch neighborhood (known as Tech City here), tech entrepreneurs gathered in person and by video link from all over the world to talk about projects that would provide skills, jobs and opportunities for refugees. The event was sponsored by Techfugees, a nonprofit created to coordinate the tech community's response to the refugee crisis, and timed to run a day before the donor conference, where Techfugees was invited to make a submission. (Alexander Asseily, the British-Lebanese founder of the wearable-tech company Jawbone, represented Techfugees at the conference.) 

"The rise of the smartphone has put powerful tech in the hands of refugees, and it's just waiting to be used in a scalable way," says Mike Butcher, Techfugees' co-founder. The solutions range from location-based services that can draw refugees to safe areas to apps that put a doctor in their pockets. They are in most cases solutions hatched in the private sector. And they ought to lead to a radical rethink of the scope and structure of humanitarian assistance.
Many of the ideas presented were developed in consultation with refugees themselves. Some deploy cutting-edge technologies -- think 3-D printing of prosthetic limbs and ultrasonic echolocation devices for a refugee blinded by explosives or blockchain-based technologies -- while others are decidedly more low-tech. GeeCycle collects smartphones from people around the world and distributes them to refugees. The Refugee Aid App is designed to help displaced people see all the types of assistance -- food, shelter, legal help, medical care -- available to them on a map. Another project, Meshpoint, advertises its "world-proof rugged Wi-Fi" for crisis areas.
German entrepreneur Harald Neidhardt's brand new solution started with a passion for shipping containers. (That isn't a typo -- he lives in Hamburg, one of the world's top container ports.) Partnering with Cisco for hardware and a translation service, his company developed a scalable way to transform containers into medical offices and connect them by video link to live interpreters working in more than 50 languages. It took him six weeks.
In London for the Techfugees event, he explained that his centers are "more humane for the refugee and more efficient for the doctor," while also being more cost-effective since there is no need for several interpreters to be on site. Often refugees who don't speak German are sent to emergency rooms for basic medical treatment since language barriers make assessment difficult; the mobile response centers with dial-in interpreters would free up that resource. He says the containers cost about 50,000 euros ($56,000) each and could also be kitted out for schooling or other services. The prototype is operational in Hamburg and in high demand from refugees there. "My dream is to put 100 along the road south to Lesbos orwhere the camps are," he told me.
Kiron University offers refugees the opportunity to receive an internationally accredited degrees for free by partnering with open course platforms and universities to develop degree programs. At the moment, 80 percent of Kiron's students are Syrians and come from refugee centers.
Hugh Bosely, founder of ReBootKamp, dialed in from San Francisco to talk about his project to build a talent pipeline from the Mideast to Silicon Valley by teaching refugees to code. It sounded far-fetched at first, but Bosley, whose co-founder is Syrian, says it is "extremely feasible" to teach refugees to code in 12 to 16 weeks; he says he has commitments from the tech industry to hire every graduate of their program for the next two years. 
The previous United Nations High Commissioner for Refugees, Antonio Guterres, warned that the system of funding humanitarian relief was broken. "Already today," he said in 2014, "with the exponential increase in needs we have seen just in the last three years, the humanitarian financing system is nearly bankrupt." The tech community (and I know I repeat myself here) can be part of the answer, as much for their problem-solving mindset as their algorithmic wizardry. They do not fret about job displacement or benefits-mooching; they see refugees as entrepreneurs. Combining a hunger to hack solutions to whatever problem gets put in front of them with relentless productivity, they can turn a light-bulb moment into an MVP -- minimum viable product -- in weeks or months.
Some quarters of the NGO community have caught on to the need to find more innovative ways of operating. The United Nations High Commissioner for Refugees has launched The Hive, a New York-based innovation lab that its director describes as part tech startup, part political operation and part consumer brand. The Hive is working with Civis Analytics (which employs much of the data team behind Barack Obama's 2012 campaign), and has partnered with Kickstarter and other companies to raise awareness of refugee issues and find new sources of funding.
"This is more than a humanitarian relief challenge; this is a massive systems challenge," Hive director Brian Reich told me when we spoke at the end of last year. "If we try to solve it with some feel-good philanthropy, we're going to watch those problems get worse and worse while we don't raise enough money to help where it's needed."
The donor conference was certainly meant to generate some feel-good philanthropy; it raised more than $10 billion, at least in pledges. That alone is heartening. But we can ultimately judge the success of the effort by whether refugee camps and communities become centers of learning and engagement, rather than places of idleness and despair.
This column does not necessarily reflect the opinion of the editorial board or Bloomberg LP and its owners.