Editorial Board
What Syria's Refugees Need
An end to the war may not be in sight, but more can be done to help those it has displaced.
by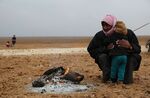 Two big international efforts to end the suffering in Syria are taking place this week. The first, in Geneva, aims to produce a political settlement and is highly unlikely to succeed, so reluctant and cynical are many of the parties involved. The other, in London, aims to raise money to help the war's victims -- and here the outlook is more promising.
According to the U.K. government, which is hosting Thursday's donor conference, the United Nations last year was able to raise only $3.3 billion of the $8.4 billion it needs to help the millions of people displaced by the war in Syria. This lack of funds forced the World Food Program to reduce its food aid to refugees in Jordan and Turkey and has prevented the provision of adequate schools, medical care and other fundamentals of life.
This is shameful. The U.S., Britain and Germany accounted for almost 50 percent of aid for Syrians in 2015, with most other wealthy European nations falling far behind. Russia, which has accelerated its bombing campaign in Syria during the Geneva peace talks, gave 0.1 percent of the total aid.
After five years of war, Syria's refugees need far more than food -- they and the countries where they are staying need jobs, infrastructure and education. The European Union may be struggling to absorb 1 million refugees (0.2 percent of the bloc's population), but Lebanon now has nearly as many Syrian children in its schools as Lebanese children, with many more young Syrians left out.
In Jordan, 1.4 million refugees are putting severe strain on already scarce water supplies, power generation and hospitals, as well as schools. Partly in response, government expenditures have risen 38 percent, while the economy has slowed sharply as trade routes to Europe and much of the region have been cut off by war and Islamic State. To cope, the government says it needs $8 billion between now and 2018 to manage.
The good news is that last summer's surge of refugees toward Europe seems to have convinced both the host and donor countries that Syria's refugees will not be able to go home anytime soon. On Wednesday, the European Bank for Reconstruction and Development announced a 900 million-euro program to fund private-sector projects for both refugees and citizens in Jordan and Turkey. The bank will start work soon in Lebanon as well.
Part of the money to pay for these efforts will have to come from the donor countries gathering in London. No doubt this conference, like previous ones, will end with an impressive number of pledges. But this time the donors need to make good on their promises.
The crisis in Syria remains a humanitarian disaster. Until a way is found to stop the war, the calculation is simple: Either developed nations act now to help Syria's 5 million-plus refugees in the region, or the refugees will come to them. The rationale for assistance is more than charity -- it is also self-interest.
--Editors: Marc Champion, Michael Newman.
To contact the senior editor responsible for Bloomberg View's editorials: David Shipley at davidshipley@bloomberg.net .
Before it's here, it's on the Bloomberg Terminal.
LEARN MORE