Europe's Development Bank Is Now a Crisis Agency
Marc Champion writes editorials on international affairs. He was previously Istanbul bureau chief for the Wall Street Journal. He was also an editor at the Financial Times, the editor-in-chief of the Moscow Times and a correspondent for the Independent in Washington, the Balkans and Moscow. He is based in London.
Read More.
Officials from Jordan, Lebanon and Turkey are in London this week, trying to make a world mesmerized by the flood of Syrian refugees feel their pain. It is a shockingly powerful case.
In 2010, the population of Lebanon was around 4.3 million. By last summer the CIA estimated that figure at 6.2 million, mostly because of refugees from Syria. It is, said Lebanon's education minister Elias Bou Saab, as though 32 million people had suddenly descended on Britain.
He was exaggerating a little by including Lebanon's Palestinian refugees. Still, try 24 million. The U.S. equivalent would be 120 million; for Germany, more than 30 million.
QuickTake Europe's Refugee Crisis
The fact that the European Union is now being forced to share even a fraction of this disruption has made its members recognize that the refugees will have to be helped where they are. Jordan, Lebanon and Turkey are all beginning to realize they will have to let Syrians compete for jobs. That, however, could be politically destabilizing.
This realization has prompted the European Bank of Reconstruction and Development to find a new calling: crisis development. Created after the fall of the Berlin Wall to help Europe's ex-communist nations become market economies, the EBRD controversially moved on to Egypt, Jordan, Morocco and Tunisia after the Arab Spring. Last summer, as he watched TV coverage of refugees coming to Europe, the bank's president, Suma Chakrabarti, told me he saw "an opportunity to show we are relevant to crisis situations." Now Lebanon has applied for EBRD membership.
Mission creep is what institutions do. When the job they were created for is over, they look for new roles to avoid unemployment. In this case, that's a good thing.
In October, Chakrabarti says he got the EBRD's board to agree to a new approach. It would help stabilize refugee host countries by corralling funds and private investors to deal with the consequences of sudden population explosions and treat them as a development opportunity. On Wednesday, he announced a 900-million euro program.
"We're ready to go," says Chakrabarti. All that's required is for donor countries to provide 400 million euros, and for the host countries to cooperate.
Start with sewage. Already straining, Jordan's system can't cope with 1.4 million extra Syrians, so the first EBRD project would strengthen the network in the Zarqa River area, north of Amman. Then landfills - they're full. New ones have to be built.
Jordan, the second most water-poor country on earth, has had to halve cistern deliveries in some areas. Leaking water pipes need repair. Four hundred schools are running double shifts -- local kids in the morning, Syrians in the afternoon. More schools need to be built. Hospitals are overwhelmed. Transportation systems are overrun.
Digging landfills and laying pipes is labor intensive, as is building schools and hospitals -- which is good. The work can employ both locals and Syrians.
Jordan is fragile, increasingly isolated from trade routes by Syria's war. But it's also promising as a recipient of aid, the EBRD's country chief, Heike Harmgart, told me. The government already has the reform bug, and has big public-private partnership projects under its belt. Unlike many governments (including Turkey's), Jordan's doesn't mind if foreign grant money goes directly to the projects, rather than passing through bureaucratic hands. "They've taken ownership of the whole idea, which is hugely important," says Harmgart.
Plus, a substantial part of Jordan's workforce already consists of migrant workers from places such as Nepal, Bangladesh and China. As they go home, Syrian refugees can take their place.
All of this will require a lot of money from donors. The government has an $8 billion shopping list for a refugee response program, from now through 2018. The EBRD plans to spend about $450 million towards the total, but that's contingent on getting more than $200 million from donor countries.
At an international donor conference in London on Thursday, governments appeared ready to pay. U.K. Prime Minister David Cameron said that more than $10 billion had been pledged, far more than in previous years. Yet targets like this aren't always met: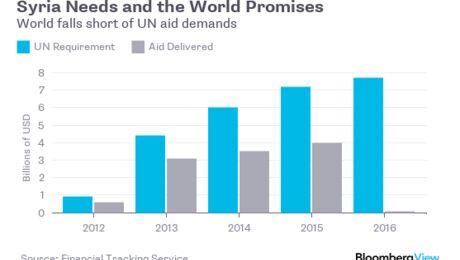 More than money is needed; changes to ensure Jordan's stability require political will. Perhaps the best thing the EU could do, for example, is to change the rules on imports of Jordanian textiles, which result in just $25 million worth being sold in Europe, compared to $1 billion in the U.S. "Innovation is the challenge," the chairwoman of Jordan's Garment and Textile Association, Dina Khayyat told me, referring to governments as much as business. "We're doing a lot, but everything else is against us. It doesn't encourage investors."
Jordan is trying to cope with its refugee crisis, and for strategic as well as moral reasons the country is surely worth the price of stabilization amid the turmoil of the Middle East. The EBRD is on the ground with projects lined up and Europe should start by delivering the funds to make "crisis development" happen.
This column does not necessarily reflect the opinion of the editorial board or Bloomberg LP and its owners.
To contact the author of this story:
Marc Champion at mchampion7@bloomberg.net
To contact the editor responsible for this story:
Jonathan Landman at jlandman4@bloomberg.net