Ukraine Crisis
Will Ukraine's Next Revolution be Nonviolent?
A reformist minister's resignation highlights the country's dearth of options.
by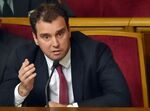 Ukraine's most successful reforming minister tendered his resignation Wednesday, citing widespread corruption in Ukraine's government and accusing a top ally of President Petro Poroshenko of blocking reform. If it wasn't clear to everyone by now that the current Ukrainian leadership is as thoroughly dysfunctional as the previous one, the case of Economy Minister Aivaras Abromavicius should remove the last doubts.