Editorial Board
Ending Latin America's Longest War Won't Be Cheap
Colombia still needs the U.S.'s help.
by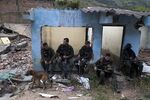 As if ending Latin America's longest civil war weren't enough of an achievement, the peace agreement between the government and Marxist rebels in Colombia would also accelerate the region's shift away from destructive populism. That's why Congress and President Barack Obama should lend support to Colombian President Manuel Santos this week as he seeks more U.S. aid.
Colombia, which has received nearly $10 billion from the U.S. over the last 15 years, is already the region's biggest recipient of U.S. aid. But assistance to Colombia has fallen steadily to about $300 million a year, down from a peak of $808 million during the George W. Bush administration.
And maintaining the peace -- disarming the rebels, redistributing land they seized, ridding the country of land mines, and so on -- could cost up to 3.5 percent of Colombia's gross domestic product a year over the next decade. That burden will fall on a country hurt by the plunge in the price of oil (which accounts for more than half its exports and about one-quarter of its fiscal revenue) and the agricultural impact of El Nino.
Moreover, even as Colombia's military has beaten the FARC rebels on the battlefield, it has not been able to squash their cocaine trafficking, which supplies most of U.S. demand. The rebels have pledged to give up the business and encourage crop substitution -- another expensive proposition -- but making that stick will be hard. Worse yet, drug cartels not bound by any political agreement may fill the vacuum, stoking not just the drug trade but also attendant ills such as money laundering.
Stepped-up aid from the U.S. will be essential to meeting such challenges. With only a year left in office, Obama can't meet Santos's reported request of $500 million a year over the next decade even if he wanted to. But he can reverse recent declines and, with bipartisan support, create a framework for future assistance that strengthens Colombia's governing institutions and creates incentives for curbing coca cultivation. And certainly at least until the FARC follows through and signs the deal -- that's scheduled for March 23 -- the U.S. should defer Santos's request to remove the FARC from its list of foreign terrorist organizations. In any case, FARC leaders will still be targeted for sanctions under the Kingpin Act.
A timely mix of such hard and soft measures can help Santos sell the deal to Colombians worried by the economy and skeptical of the FARC's intentions. More broadly, it can also bolster a U.S. ally whose outward-looking economic policies and support for democracy have made it one of the hemisphere's brightest beacons of change for the better.