2016 Elections
If Only Russia Could Have Iowa's Democracy
Caucuses show participatory politics at their best.
by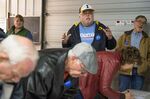 On Monday night, the Stilwell Junior High School in West Des Moines, a suburb of Iowa's state capital, was repurposed as the 114th precinct for Democrats and Republicans to caucus for the first-in-the-nation presidential nomination contest. The Democrats' chaotic gathering was in the cafeteria, the more sedate Republicans were in the auditorium. Both spaces were chock-full: The 2016 election left few Iowans indifferent. 
Scott Hale, the chairman of the Democratic caucus who has been running such proceedings since 1992, said he'd never seen so many new voters. Despite his preparations, he even seemed at risk of running out of registration forms at one point. 
Pollsters and commentators had predicted that the enthusiasm of the previously politically inactive would benefit Bernie Sanders, and many of the 111 new voters made their way to the corner of the room designated for the Vermont senator (at Democratic caucuses, each candidate's supporters stand in their own corner of the room). "I like socialism," said Emma Griffiths, 21, a community college student. "I like what Bernie says about banks and about the minimum wage." 
Like Griffiths, many of the Sanders supporters in the Stilwell cafeteria were young enough to enjoy the concert by the group Vampire Weekend the campaign had organized in Iowa City on Saturday.
Hillary Clinton's backers also turned out in force, though they were visibly older and many said they had caucused before. Hale announced a record turnout -- 344 people. Even in 2008, when Barack Obama's campaign mobilized an unusually high number of supporters, only 260 people caucused at Precinct 114. 
The third Democratic contender, former Maryland Governor Martin O'Malley, only managed 17 supporters. That wasn't enough to reach the threshold of at least 15 percent of the total turnout that is required to qualify for sending delegates to the Polk Country convention. The weak showing meant that O'Malley's backers needed to choose between Clinton and Sanders. They, along with six unaligned caucus-goers, became the object of a propaganda battle waged by the supporters of the Democratic front-runners. (O'Malley, who may have scored as little as 1 percent of the Democratic vote, suspended his campaign Monday night.)
"You got $125,000?" a Sanders supporter said to a couple of undecideds. "If you don't, she's not interested in talking to you. That's her speaking fee, you know." Meanwhile, a Clinton backer spoke to another undecided voter, telling her that Sanders' lofty ideals were best pursued in the Senate, where laws are written, not in the White House: "We need those good laws!"
Kelly Parriott, 32, listened to everyone, then moved to the Sanders corner. "I like it that he doesn't have a super-PAC," the schoolteacher said. "He's sort of independent, the way I think of myself, and he'll change something. That'll be better than the status quo."
Shelly York, 49, an executive assistant, was greeted with applause as she moved toward the Clinton camp. "I liked O'Malley, but he's not viable, so I'm going for another candidate with experience," she said. "Bernie's too far left for me."
That seemed to be the majority view in the room as Clinton ended up with the backing of 197 people out of 339. As a result, six of the 10 delegates from Precinct 114 will be for her. That showing was consistent with the results across Polk County, which is populous and  relatively wealthy. But the statewide tally was far closer, and early Tuesday, the race between Sanders and Clinton was too close to call. 
Down the hall from the cafeteria, Republican caucus-goers were experiencing a less emotional evening. That may be because their caucusing rules allowed them to stay comfortably in their seats to listen to neighbors who volunteered to speak for the candidates. If Donald Trump had staked his victory on getting a lot of new voters to turn out, the bet didn't pay off at Stilwell Junior High: Only 44 out of 280 caucus-goers were new or had decided to switch party affiliation.
Among these first-timers were Kris and Jenny Kunz, who had their two young kids in tow, and were looking for a candidate with strong Christian values and a firm stand on abortions. Trump didn't fit the bill.
Trump supporters weren't very visible in the audience. They had thronged his rallies across the state, decked out in campaign hats, T-shirts and other merchandise, but in the high school auditorium, they blended in with the crowd, and the pro-Trump speech didn't generate much enthusiasm. The audience laughed and clapped, however, when a backer of Senator Marco Rubio who had served in the military in Germany derided Trump's plan for a wall along the Mexican border. "You can't build one as good as they had in East Berlin," he said.
Rubio carried Polk County and came in a close third to Trump statewide. Although Ted Cruz emerged as the overall winner thanks to his relentless campaigning and hyperactive canvassing, Rubio, the strongest performer in the last Republican debate, showed that he would be the one to beat as the campaign rolled on. Mainstream Republicans will have to pin their hopes on him.
As for Trump, he got his first hint that good poll results might not translate to votes. People like the show, but they don't necessarily want it to go on for the next four years. He won in Muscatine County, where I saw him fire up an angry crowd, but that wasn't enough to carry the state. Not playing by the accepted rules is bold and flashy, but the rules weren't made by losers, either.
Like many at Stilwell Junior High on Monday night, I was a first-time caucus-goer. I saw a genuine democratic process. People cared, argued, despaired and laughed. I found myself hoping that my country, Russia, could elect its leaders this way, rather than accept dictates from above.
This column does not necessarily reflect the opinion of the editorial board or Bloomberg LP and its owners.