view
Congrats, Alphabet! But Don't Get Too Excited
Being the world's most valuable company may not be as good as it sounds.
by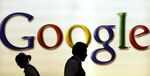 It happened for real this morning, after sort of happening in after-hours trading Monday night: Alphabet, the budding conglomerate formerly known as Google, passed Apple to become the world's most valuable company, as measured by stock-market capitalization. 1 At the close of trading, the market caps were $531 billion for Alphabet and $524 billion for Apple. Congrats, Larry and Sergey!

As changings-of-the guard go, this one doesn't feel all that epochal. Apple has been behind Google before -- the last time was six years ago, when neither was in the top spot -- and it could conceivably jump ahead of it again soon, given how much more volatile its stock price has been.
The bigger news may actually be that Facebook passed Berkshire Hathaway and Exxon Mobil on Monday and broke into the market-cap top five for the first time.
Here are the market-cap leaders as of today, with the trajectories that brought them there.

In other words, these are the five companies that stock-market investors deem to have the most valuable combination of present earnings and future prospects. Which got me thinking: How good have investors been at assessing the most valuable corporations' prospects in the past?
Here's how things have worked out for the companies that led the list a decade ago:

Oil was hot then (Royal Dutch Shell was No. 6), and now it's not. But it presumably will be again. As for General Electric and Citigroup, what investors didn't get in 2006 was that the worst global financial crisis in 75 years was coming, and it would be especially tough on banks such as Citi and bank-like entities such as GE Capital.

I was also curious how the top five from March 2000 -- the apex of the tech-stock boom -- had done.

Remember NTT Docomo? It's still Japan's biggest wireless operator. But in 2000 it was widely seen as the future of mobile. Its i-mode service, launched in 1999, was the first truly successful effort to bring the Internet to mobile phones. Some of its innovations (emoji!) are still with us today, but it was Apple and Google that ended up making the mobile Internet ubiquitous, not NTT Docomo.
NTT Docomo has had the steepest fall, but Cisco and Intel weren't far behind. Only Microsoft has come close to making up its losses since March 2000. That was a time of unique investor overconfidence, but all of the 2006 top five except Microsoft are worth less now than they were a decade ago, too. Meanwhile, the Standard & Poor's 500 Index is up 50 percent since February 2006, and it's up 25 percent since March 2000.
I haven't assembled enough data points here to draw any strong conclusions, but money manager Rob Arnott of Research Affiliates did the necessary digging back in 2005, sifting through market data from 1926 through 2004. He found that 76 percent of the time the largest-cap company as of Jan. 1 underperformed the average stock over the next 10 years. Of the 10 companies with the highest market caps, 68 percent went on to underperform the average stock over the next decade. Making it near the top of the market-cap list is a sign that your company has been very successful, but it also appears to be a sign that investors have gotten too enthusiastic about you. 
OK, I take back the congratulations. So sorry this had to happen to you, Larry and Sergey! You should be able to tough it out, though.
You could also measure by enterprise value, which starts with a company's market cap then adds its debt and subtracts its cash. Alphabet's EV passed Apple's last month. But market cap is a more familiar, easier-to-understand metric. Plus, if you took the EV formula literally all the world's most valuable corporations would be banks, because they have so much debt.
To contact the author of this story:
Justin Fox at justinfox@bloomberg.net
To contact the editor responsible for this story:
Zara Kessler at zkessler@bloomberg.net
Before it's here, it's on the Bloomberg Terminal.
LEARN MORE