Health
Squeezed Between Zika Panic and Complacency
Officials must react before the threat is understood. Here's what they're doing right so far.
by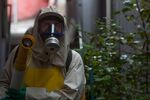 No matter how things play out with the fast-spreading Zika virus, people are likely to end up angry at public health authorities.
It's possible the situation will become worse than expected, both worldwide and in the U.S., where some spread can't be ruled out. Zika may be blamed for some U.S. cases of microcephaly -- the birth deformity tentatively linked to the outbreak in Brazil. If that happens, health officials will be slammed for downplaying danger, as they were during the 2014 Ebola crisis.
Or the epidemic may turn out to be smaller than expected and may never spread within the U.S. In that case, the public will accuse the U.S. Centers for Disease Control and World Health Organization of scaremongering and overreaction, as happened following two fizzled flu outbreaks, bird flu in 2004 and H1N1 in 2009.
It will be easy in hindsight to pinpoint how the authorities got it wrong, but for the time being they are doing one thing right. In their attempts to impart an appropriate level of concern, both the CDC and WHO are being straightforward with the public about how little is known.
They are doing a much better job leveling with people about uncertainties concerning Zika than they did during the Ebola outbreak, said Peter Sandman, a risk communication consultant who has advised public health officials on everything from vaccines to GMO crops to climate change.
Threats tend to generate both danger and outrage. In the Ebola outbreak, the danger to the average American was small, Sandman said, but the outrage wasn't. That was because the disease spread to a few people in hospitals after assurances that the public health system could contain it.
Zika is unpredictable. The mosquito-borne virus was discovered in Africa in 1947, and until 2014 it had never been detected in the Americas. It was considered a silent or mild infection not associated with any severe health complications until 2015, when doctors in Brazil started to report an alarming increase in the incidence of a microcephaly -- a birth defect characterized by a small head and incomplete brain development.
Scientists can't be certain the birth defects are caused by the Zika virus. They can't put a number on the risk faced by a pregnant woman who is exposed. Equally murky is the strength of circumstantial evidence that Zika infection can lead to a temporary but dangerous form of paralysis known as Guillain-Barre syndrome.
Sandman, working with his wife, Jody Lanard, evaluated the current Zika warnings and found that public health authorities have neither been too alarmist nor too calm. "They are trying to arouse appropriate fear about a potentially cataclysmic pregnancy outcome," they wrote in an e-mail.
WHO has estimated that between 3 and 4 million people could become infected worldwide -- a range that experts found reasonable, though there's no indication how this will translate into birth defects or other health problems. On Monday the WHO declared an international public health emergency -- a designation used only three times in the past. While there's nothing binding in such a declaration, it's likely to step up the sense of urgency.
Sandman and Lanard argue that making such a global declaration is reasonable in an uncertain situation, when it's better to err on the side of caution than to underreact.
CDC's message has been more reassuring since its mission is to focus on the United States. There have been a few cases here, acquired in other countries, but no evidence the disease has spread within the 50 states. It's possible that Zika could advance in the U.S., since the mosquito species responsible for transmitting the disease lives there. But how do you convey a theoretical risk?
Sandman and Lanard say CDC got the tone about right in telebriefings on Jan. 28 and Jan. 29. Officials warned of the possibility of "limited outbreaks" in the U.S. while explaining that this prediction was based primarily on experience with similar mosquito borne viruses -- dengue and chikungunya -- that did not become U.S. epidemics.
Some critics in the popular press are accusing the CDC of underplaying the problem. Last week, an opinion article in the New York Post accused it of "brushing off the Zika virus." The piece scolded the agency for not putting more effort into mosquito eradication.
"Unbelievably, the Centers for Disease Control and Prevention says it has no intention of helping communities in the United States eradicate mosquitoes, even though it's immersed in the same fight against mosquito-borne disease in other countries across the globe."
Eradicating mosquitoes is not that easy. While some have suggested a reintroduction of the banned insecticide DDT, University of Minnesota epidemiologist Michael Osterholm says that's a red herring. There are other insecticides, he said, and while spraying makes for dramatic TV footage, mosquito control depends primarily on the unglamorous job of cleaning up old tires and plastic trash where water collects and mosquitoes breed. The species spreading the disease in Latin America, he said, thrives in cluttered urban areas.
Some scientists are exploring the release of genetically modified mosquitoes designed to introduce fatal genes into the existing population. Others say the most practical long-term solution is a vaccine. Philip Russell, a virologist who oversaw Ebola and other emerging disease research for the Army, said that effective vaccines have been made against similar viruses. Zika wouldn't present the kinds of technical hurdles that have held up vaccines for HIV and malaria. How fast such a vaccine could be produced and tested, he said, would depend on money and determination.
If the Zika crisis fizzles, hindsight bias might lead people to criticize health authorities for urging pregnant women not to travel to affected areas, and for funneling money into improving mosquito control and vaccine development. But these are the right actions given what's currently known. Russell said the typical pattern for this type of outbreak is a peak and then a decline. But without a vaccine, he added, "it's not going away."
This column does not necessarily reflect the opinion of the editorial board or Bloomberg LP and its owners.