2016 Elections
More Than One Republican Will Win in Iowa
Cruz and Rubio could come out ahead, even if they don't place first.
by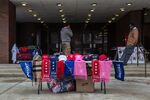 Republicans could easily have more than one "winner" in Iowa because the early party contests are more about losing. The biggest effect of the party's caucuses on Monday night will be to winnow out candidates who either drop out immediately or, having had their chances fatally wounded, limp into New Hampshire and drop out soon after. 
Here's what each of the remaining viable candidates needs to do to "win" in Iowa, even if he falls short of finishing first. I'll take them in the order they placed in the final Bloomberg/Des Moines Register/Selzer poll. (As good as that survey is, remember it's best to look at polling averages, and Iowa polling can easily go wrong.)
Donald Trump: Even if you ignore the importance of the party actors, Trump's chances to be nominated remain small. His polling numbers aren't impressive going forward. Trump's favorable rating in Iowa is weak (50 percent favorable vs. 47 unfavorable among Republicans in this poll), and he's the second choice of only 7 percent of Iowa Republicans, far behind Ted Cruz and Marco Rubio. 
To overcome that and the resistance of the Republican Party's leaders and other influential actors, Trump needs to win big. If he can demonstrate an ability to get new voters to show up, his polling numbers elsewhere will need to be viewed more generously. Parties are always looking for candidates who can win votes. 1
Ted Cruz: His strategy is to narrow the field so he can be in a one-on-one contest with Trump, a race Cruz would probably win. 2 So even if he loses to Trump in Iowa, his main goal is to convince everyone -- beginning with New Hampshire voters -- that it's a two-candidate race. A poor finish by Rubio, then, is even more important to Cruz than getting over the finish line first. 
Marco Rubio: His campaign has been touting a "3-2-1" strategy, proposing that if he finishes third in Iowa and second in New Hampshire it would launch him to a win in South Carolina. Rubio needs to appear to be the only one who can stop Trump and Cruz. That would help him knock out Jeb Bush, John Kasich and Chris Christie in New Hampshire. What he needs from Iowa, then, is clear separation between himself and those three governors. 
Jeb Bush, John Kasich, Chris Christie: All of them are counting on New Hampshire to save their candidacies. All of them are in danger of being counted out by the media, and therefore by moderate and mainstream conservative voters in New Hampshire who don't want to waste their votes on also-rans. The three would benefit if Rubio fades and finishes behind Ben Carson in Iowa. Or one of them would gain by rallying to win fourth place, meaning Carson has to collapse. Unfortunately for them at this point, they're all jumbled up with Mike Huckabee, Carly Fiorina and even Rick Santorum, well behind Carson and even Rand Paul. 
As far as the rest of the active candidates? It appears too late for anything in Iowa to save them. Huckabee and Santorum will presumably drop out this week. It's harder to predict what Carson, Paul and Fiorina will do; at least two of them will probably continue on to New Hampshire but do poorly there regardless of what happens in Iowa. They need miracles, and nothing in the polling suggests one is on the way.
This column does not necessarily reflect the opinion of the editorial board or Bloomberg LP and its owners.
I don't think even a landslide in Iowa will be enough to win over Republicans who don't trust Trump on policy, and ultimately that still makes him a long shot. But it might convince some in the party that he can win a general election.
To contact the author of this story:
Jonathan Bernstein at jbernstein62@bloomberg.net
To contact the editor responsible for this story:
Katy Roberts at kroberts29@bloomberg.net
Before it's here, it's on the Bloomberg Terminal.
LEARN MORE