Latin America
Latin America Shows No Sympathy for Venezuela
It's karmic comeuppance for a nation that has resisted the region's democratization.
by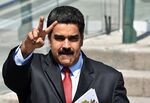 When Venezuela's head of state arrived in Quito, Ecuador, last week for the Community of Latin American and Caribbean States summit, his pitch was almost unrecognizable. Gone were the encomiums to 21st-century socialism and the late President Hugo Chavez's set-piece barbs against yanqui imperialism. In their place were contrition and beseeching.
"Venezuela is in a very difficult situation; I've come to hold a series of meetings with our brother countries, brother presidents," President Nicolas Maduro, Chavez's successor, said on Jan. 27, prior to the opening of the regional meeting. "I've come to propose a series of possible measures for Latin America to respond to Venezuela's economic emergency, to boost free trade, to increase complementarity and solidarity." 
Later that day, Maduro enjoined leaders to embrace "a common plan" to confront "the current economic crisis" facing the region, but there was little doubt which country he wanted embraced.
After almost 17 years of autocratic excess and economic trial and error, it's hardly surprising that South America's most oil-dependent economy is in miserable shape. Inflation may be racing toward more than 700 percent, and crime has exploded. Venezuela placed last in Latin America on Transparency International's latest index on perceived public-sector corruption. U.S. prosecutors have indicted Venezuelan officials and arrested two of the president's relatives on drug trafficking charges, and the country just forfeited its right to vote at the United Nations General Assembly for failing to pay its dues.
What was new in Quito was not only the official candor about Venezuela's mess, but also the rest of the region's relative indifference to it. A few years back, when Chavez ran things, the charismatic strongman could charm a parley with his rhetorical flourishes and garner sympathy even when his policies went awry. Not so Maduro, who inherited Chavez's hubris but not his bons mots or skills as a Machiavellian conniver.
Nor does wrecking the economy in the name of revolution or tossing dissidents in jail go down so well anymore in a region where constitutional democracy is gaining ground. Latin leaders stopped short of outright saying no to Maduro's pleas, but they also didn't rally to his rescue. Peace talks in Colombia, turmoil in Haiti and the devastating outbreak of the Zika virus dominated talk at the summit, eclipsing Venezuela's troubles.
Argentina has gone further to snub Venezuela. Recently elected President Mauricio Macri has openly called for the country to free its political prisoners and condemned its questionable human-rights record. Though Macri, who's nursing a fractured rib, didn't attend the summit, he dispatched Vice President Gabriela Michetti, who pulled few punches.
In a closed-door meeting, Maduro reportedly told Michetti that Argentina should mind its own business. Michetti artfully parried that since Venezuela had courageously spoken out when a brutal military junta ruled Argentina, it was only fitting to return the favor by showing solidarity in the face of "practices that run counter to the defense of human rights."
The differences didn't spill over to main assembly, but this was a big deal. "Macri's stance is the strongest criticism of Venezuela voiced by a sitting Latin American president yet," said Javier Corrales, a political scientist at Amherst College. Corrales noted that Macri's denunciation came on top of a polite but growing thrum of criticism against Maduro, including an open letter from 26 former world leaders, a vote by Chile's lower house to recall its ambassador in Venezuela, and a stern letter to the head of Venezuela's electoral council by Organization of American States Secretary General Luis Almagro.
Still, it remains to be seen to what extent Argentina's boldness will be echoed by other Latin American governments, where internal turmoil or political agendas seem to have persuaded some heads of state to look the other way.
After Venezuela rejected Brazil's envoy to monitor its December parliamentary elections, Brazil withdrew from the election-oversight mission. But Brazilian President Dilma Rousseff, who is battling an impeachment drive, has yet to say a harsh word publicly against Maduro and rejected Macri's call to suspend Venezuela from the South American trade bloc Mercosur. Likewise, Colombia's president, Juan Manuel Santos, protested Maduro's move last year to forcibly deport Colombian migrants, but quickly ended the quarrel -- perhaps for fear that Venezuela's leftist government might withdraw from its efforts to help Santos close a peace deal with Colombia's Marxist guerrillas.
Such diffidence may be losing traction. An Ecuadoran public-opinion research group recently found that 75 percent of survey respondents believed that Latin American leaders ought to take up the issue of human rights in Venezuela at the summit. Perhaps people have been emboldened by the political atmosphere in Venezuela itself, where opponents of the Maduro regime now have the upper hand in congress and recently rejected the president's bid for extraordinary powers to tackle the economic crisis.
It may be too much to expect the rest of the region to turn on a neighbor in distress, but Latin America doesn't appear eager to endorse a failing regime. The most impassioned voice of support for Venezuela in Quito came -- tellingly -- from Cuba.
The summit ended not in a burst of Bolivarian exaltation, as it has before, but in a temperate call to fight poverty, improve food security and boost regional integration in the face of economic headwinds. That agenda may do little for Venezuela's homemade woes, much less its political prisoners, but for a region that has too often fallen for the charmer at the microphone, it's encouraging news, indeed.
This column does not necessarily reflect the opinion of the editorial board or Bloomberg LP and its owners.
To contact the author of this story:
Mac Margolis at mmargolis14@bloomberg.net
To contact the editor responsible for this story:
Zara Kessler at zkessler@bloomberg.net
Before it's here, it's on the Bloomberg Terminal.
LEARN MORE