view
What's the Matter With Iowa?
Voters who support Trump and Cruz undermine their own interests.
by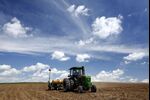 Iowa's Republicans may be about to vote against their own interests. If the polls can be believed, a majority of caucus-goers on Monday night will raise their hands for one of the two leading presidential candidates -- Donald Trump or Ted Cruz -- whose protectionist and anti-immigration positions could harm the state's economic prospects.
The two most important things Iowa needs to keep its economy afloat -- passage of the Trans-Pacific Partnership free-trade deal and an influx of immigrants to fill job vacancies -- are strongly opposed by Trump and Cruz.
On paper, conditions look rosy in Iowa: Unemployment, at 3.4 percent, is the sixth lowest in the U.S. and compares with a national rate of 5 percent. Median household income of $53,712 mirrors the U.S.'s overall.
Look a little deeper, though, and those statistics could be hiding some unpleasant surprises. The state's total output, already near zero, according to the latest figures from the U.S. Commerce Department, may be shrinking. Iowa's 0.4 percent growth in 2014 was slower than that in all but four other states, and behind that of its Plains neighbors.
Despite full employment, wages and salaries are considerably lower than the national average, at about 81 cents to the dollar, according to data collected by Iowa State University economist David Swenson.
A huge reallocation of jobs from rural to urban counties is hollowing out large swaths of the state, while out-migration of college-educated and skilled workers is making it difficult for companies to fill vacancies. With demand slowing, employers are refusing to pay higher wages to attract workers, making it even harder for the economy to grow. Poverty, meanwhile, is well above the national average. 
Surveys by Creighton University's College of Business paint a dismal picture of business conditions in Iowa and nine other Plains states. An index measuring employment, inventories, prices and confidence sank for the fifth straight month in December. A separate survey in January of regional bank executives, looking at lending volumes, farm prices and hiring in non-urban areas, registered its most pessimistic reading since 2009.
Passage of the Asia-Pacific deal, which President Barack Obama successfully negotiated last year with 11 other countries but which won't take effect until Congress approves it, is key, say Iowa economists. Iowa exported tractors, processed foods and other manufactured goods worth $13 billion in 2011, accounting for 88 percent of the goods shipped abroad. (John Deere tractors are made in Waterloo, not far from the Mississippi River in the state's northeastern corner.)
Those industries are the ones where job losses are starting to show. The slowdown in China and other emerging markets has had a strong ripple effect on Iowa. About a fourth of Iowa's goods are sold to Pacific-Rim countries, where the Trans-Pacific Partnership could open more doors and force removal of artificial barriers that block U.S. goods.
Iowa's Republican governor, Terry Branstad, supports the treaty, as do Marco Rubio and Jeb Bush. But Trump has called it "a horrible deal," and Cruz has vowed to vote no when it comes before the Senate. Democratic voters don't even have a choice: Hillary Clinton and Bernie Sanders are both anti-treaty.
When it comes to immigration, Trump and Cruz argue that it too drives down wages. But the latest research shows that immigrants have little effect on wages and jobs, as my View colleague Noah Smith has written. With the state at full employment -- any Iowan who wants a job could probably find one with little effort -- manufacturers, meat-processing factories and animal-feed plants are forced to recruit heavily from out of state to fill vacancies. And the people who will take those jobs are immigrants.
Iowa's population is one of the least diverse in the U.S.: 90 percent white, 4 percent Hispanic and 3 percent black. While the outflow of native-born residents continues, the inflow is about a third less than the national median.
And the newcomers are less educated and more often foreign-born than other states' migrants. As they move in, this creates a sense of being left behind among the natives. That may explain why Iowa Representative Steve King, one of the House's most fervent Republican anti-immigrant agitators, won his seventh term by almost 62 percent in 2014.
King, Trump and Cruz argue that illegal immigrants drain the state's coffers. Yet Iowa's approximately 75,000 undocumented immigrants, many of whom work in meat-cutting, packaging, construction and housekeeping, are net tax contributors. They pay federal, state, local and sales taxes. But they are barred from receiving Medicare, Social Security or other federal benefits, as well as most state benefits. 
If Iowa Republicans resent immigrants' presence for emotional reasons, then they will likely vote for Trump and Cruz. But if their most important concern is to protect their living standards and their pocketbooks, they should make a different choice.
To contact the author of this story:
Paula Dwyer at pdwyer11@bloomberg.net
To contact the editor responsible for this story:
Katy Roberts at kroberts29@bloomberg.net
Before it's here, it's on the Bloomberg Terminal.
LEARN MORE