view
Dark Pools Turned Out to Be Really Murky
Figuring out who's a "predatory" trader isn't easy.
by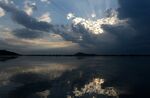 Here's how Credit Suisse Securities (USA) LLC described one of its dark pools, which it cleverly named Light Pool 1 :
On January 11, 2011, CSSU announced Light Pool in an email sent to certain existing CSSU clients and potential Light Pool subscribers. The email was entitled "Credit Suisse announces Light Pool – the Market for the Long-term Investors." In the email, CSSU represented, among other things, that "Light Pool identifies and discourages short-term opportunistic traders" by "[u]sing an objective and transparent formula" that "classifies traders based on their short-term alpha."
Light Pool was for long-term investors, not short-term opportunistic traders. If you're a short-term opportunistic trader, get outta there:
CSSU explained that the Alpha Formula would operate as follows: "… what we're going to do is, using an objective formula that classifies how - you are a pick-off artist or not, essentially, we're going to split the flow into three groups…. Now, the people who are classified as opportunistic just get kicked out. They can't come to Light Pool, that's it."
If you follow high-frequency trading news at all, 2 you can guess how this turned out: Through a combination of loopholes, omissions, subjective interpretations of the facts, etc., Credit Suisse allowed several high-frequency trading firms who looked quite a bit like "pick-off artists" to remain in its dark pool, er, Light Pool. It did this in its other dark pool, Crossfinder, too, and Barclays did it in its dark pool, LX. All of these pools promised to protect long-term investors from opportunistic high-frequency traders, and all of them underperformed their promises. For these and other sins, Barclays and Credit Suisse settled, for $70 million and $84.3 million respectively, with the Securities and Exchange Commission and with New York Attorney General Eric Schneiderman. 3
QuickTake Trading on Speed 
But here's what you might not have guessed about Light Pool's efforts to pick off the pick-off artists:
CSSU did kick out several indirect subscribers, who accessed Light Pool via CSSU algorithms and the AES SOR. Those indirect subscribers, whose trading scored "opportunistic" only because of the use of CSSU's own algorithms and AES SOR, were blocked from having their orders routed directly to Light Pool and not given the opportunity to resume trading in Light Pool. Indirect subscribers also were not given the opportunity to improve the quality of their Light Pool trading to avoid being labeled as "opportunistic."
If you are a long-term investor, you don't necessarily know how to optimize your trading down to the microsecond. You don't access dark pools directly and trade opportunistically between pools; that's not your business model. Instead, you ask your broker to deal with market structure for you: You decide to buy, say, 100,000 shares of Apple stock to hold it forever and ever, so you send Credit Suisse the order. And Credit Suisse's algorithms and Advanced Execution Services Smart Order Router (that's the "AES SOR") break up your order, send it to different exchanges and dark pools (and Light Pool), and generally make sure that you get your 100,000 shares as efficiently as possible without having to worry about the details. 
And you get classified as opportunistic! While Credit Suisse is bending over backward to reclassify opportunistic short-term high-frequency traders as well-behaved, so they can stay in the system. 4 The irony!
In contrast, in Crossfinder and LX, nice institutions who accessed the dark pool via Credit Suisse's and Barclays's routers and algorithms weren't classified as opportunistic. They weren't classified at all: Credit Suisse and Barclays had scoring systems that they used to check whether subscribers were opportunistic or not, and let subscribers choose whether or not to interact with more opportunistic subscribers, but they didn't apply those scoring systems to clients who used their algorithms. 5 So if you used the algorithm, you were good, even if the algorithm was picking off other clients.
One question you might have is: Should Credit Suisse really be building algorithms for its (nice, institutional) clients that opportunistically pick off its other (nice, institutional) clients?
I feel like the answer is ... sort of, yes? One model for all of this is that there's a kind of trading that is cheating, and another kind of trading that is nice, and most people use the nice kind, and the goal is just to keep out the ones who use the cheating kind. You could imagine what might look like cheating. Spoofing, certainly, is cheating. "Latency arbitrage" is a much-used term for a kind of cheating, so much so that Barclays advertised its ability to stop it in a chart that found its way into the settlement:

But this is all basically nonsense. 6  "Barclays did not 'continuously police' LX for predatory trading through the use of 'visualization tools' as depicted above." You can't actually know cheating when you see it, and even if you could, Barclays didn't look.
Instead, it used a quantitative system called "Liquidity Profiling," similar to Light Pool's "Alpha Formula" and Crossfinder's "alpha scoring." These systems were all basically efforts to answer the following question: When you buy stock, does the price go up or down? 7 If it goes up -- in the next very short period, say one second -- then you have positive alpha. If it goes down, you have negative alpha. If you regularly have a lot of positive alpha, you are Bad, and people shouldn't want to trade with you. If you regularly have a lot of negative alpha, people will be delighted to trade with you. But then, if you regularly have a lot of negative alpha, you should stop trading because you keep losing money. 8  
The way these dark pools measured cheating is more or less that, if you made money trading in the dark pools, you were cheating. This measurement classified a lot of high-frequency trading firms as cheaters, since a high-frequency trading firm is more or less by definition a firm that makes money on very short-term stock-price swings. (The measurement also sometimes classified Credit Suisse's own algorithms as cheating, which means that they were doing a good job for customers!) This was awkward for the dark pools, which wanted to keep those high-frequency trading firms as customers. So they bent the rules to reclassify those firms as not cheaters, in ways that weren't particularly principled or well disclosed.
Here is a simple model of dark pools:
Banks want to execute as many of their customers' stock orders as possible in-house, without sending them to exchanges. The banks have various more or less self-interested reasons for this preference: They avoid paying exchange fees if they keep the orders in-house, executing a lot of orders in-house allows them to advertise their execution prowess, etc.
So each bank sets up a dark pool (or two) so that it can match its customers' orders with each other before routing them to public exchanges.
If the bank tells the customers that the dark pool's purpose is to save money and enhance status for the bank, they won't be that jazzed about it.
So the bank tells the customers that the dark pool is a place for natural long-term institutional investors to trade shares with each other "in the dark," safe from the prying eyes of high-frequency traders.
But imagine actually doing that. An order comes in from a big institution to buy 1,000 shares of Apple. If there's another order from another big institution to sell 1,000 shares of Apple at the same price, great, you trade, everyone is happy. If not, though, you send the order elsewhere, because your institution doesn't want to wait around all day, or even all second, seeing if anyone else will come into the dark pool. And the odds that one bank will have two natural long-term institutional investors on opposite sides of the same trade within the same second are quite low.
So your dark pool doesn't get that many trades, you don't save that much money, you don't enhance your prestige much, and now your customers are unhappy because your vaunted dark pool never executes any trades for them.
You know who'd be happy to be on the opposite side of your natural institutional customers? High-frequency traders!
So in they come.
But you do a little song and dance about how it's only the good high-frequency traders, not the bad ones, and your nice institutional clients should still be happy there.
You have no particularly robust way of telling the good HFTs from the bad ones, certainly not one that lets you keep attracting HFTs.
Is this fraud? I mean, sure, why not; it isn't especially pleasant. What are the alternatives, though? You could be a genuinely institution-to-institution dark pool, but you probably won't do that many trades. 9  Or you could just ship your clients' orders off to the public exchanges, where they'll be preyed upon by high-frequency traders without even a pretense of protection. 
Or you could be honest with your customers about how your dark pool works. That is, I guess, the preferred model these days? It is difficult, though, because commentators and regulators and the dark-pool operators themselves have built up so much ill will against the high-frequency traders. How can you tell investors that you welcome high-frequency traders in your dark pool, after you've spent years promising to protect those investors from evil HFTs?
This model also explains a lot of the other stuff that Credit Suisse settled: It wanted to execute as many orders as possible internally, and did naughty things to achieve that. For instance, it gave its smart order router access to information about Crossfinder that the router wasn't supposed to have, which increased the odds of the router finding a match in Crossfinder. If the router finds a match in Crossfinder, then as a first-order matter that is good for the customer using the router (he got a trade!), good for the customer using Crossfinder (she got a trade too!), and good for Credit Suisse (it didn't have to send the client's order to an exchange). As a second-order matter, perhaps the customer using Crossfinder will feel picked off by the router, which is why this is frowned upon, but you can see why Credit Suisse did it. There were variants on this -- Credit Suisse naughtily shared some Crossfinder information with two stock exchanges, and some smart-order-router information with two high-frequency trading firms 10 -- that were perhaps less excusable but similarly motivated.
Also, more bluntly, if you used Credit Suisse's smart order router, it preferred to route your order to Credit Suisse's own dark pool. Of course it did! That, in my simple model, is the whole purpose of the dark pool: Credit Suisse wanted to execute as many orders as possibly internally, and if clients gave Credit Suisse the choice of where to send orders, it was going to send them to its own dark pool. But it told clients some hokum about how "the routing logic of the AES SOR did not preference venues based on criteria other than execution quality," and how "CSSU performed regular, periodic analysis of the venues to which the AES SOR routed client orders." It has now stopped doing that. I mean, it has stopped the hokum. It still prefers its own dark pool -- of course it does! -- but now it "has made disclosures regarding how its routing logic prioritizes Crossfinder."
A whole grab bag of miscellaneous misconduct also seems to have been stuffed into the settlements. 11 The timing, and the content, are perhaps related to the publication of my Bloomberg View colleague Michael Lewis's book "Flash Boys." One piece of misconduct that Credit Suisse settled had to do with sub-penny pricing. The details aren't that important, 12  but the gist is that Credit Suisse let Crossfinder subscribers put in orders that would price in increments of less than a penny, and the SEC decided that was a no-no. In the spring of 2011. At which point Credit Suisse stopped doing it. 13  And then ... five years passed. I think it is safe to say that fining dark pools millions of dollars for allowing sub-penny orders wasn't a high priority for the SEC. Then "Flash Boys" came out, and the SEC seems to have sort of looked around for stuff to generate dark-pool fines. It remembered the sub-penny thing from 2011, and here we are.
Even more directly relevant to "Flash Boys" is this:
On April 9, 2014, in response to LX subscriber inquiries generated by the publication of Michael Lewis's book, Flash Boys, Barclays sent a marketing piece by email to LX subscribers that said that Barclays "utilize[s] direct feeds from exchanges to deter latency arbitrage." 
In fact, LX used direct feeds from some exchanges (BATS, ARCA and Nasdaq), but relied on the slower Securities Information Processor feeds from some other exchanges, including the New York Stock Exchange. High-frequency traders' use of faster direct feeds to pick off slow traders relying on the SIP is a major theme of "Flash Boys," and when the book came out, a lot of dark-pool and exchange operators got pointed questions about their use of the SIP. Barclays isn't the only one that flubbed those questions.
When Eric Schneiderman first brought his dark-pool lawsuit against Barclays in 2014, I admired Barclays's amazing ability to say things about its dark pool that were misleading but not strictly untrue. There's a bit of that going on here, too. Barclays didn't say "we utilize direct feeds from every exchange to deter latency arbitrage." It said "we use direct feeds from exchanges to deter latency arbitrage." That was true! It used direct feeds from exchanges. From more than one exchange. So: exchanges. It used the SIP from other exchanges. You have to be careful about your quantifiers. There is nothing literally false in that sentence, though it is not a paragon of honesty. 14  
In 2014 I also pointed out that, while Barclays did seem to be misleading its customers, it was less clear whether and how those customers were harmed. As these cases conclude, that remains true: These settlements map out how Barclays and Credit Suisse failed in their promises to protect their customers from predatory high-frequency trading, but they are less clear on what "predatory high-frequency trading means," and how it hurts customers. "These cases mark the first major victory in the fight to combat fraud in dark pool trading and bring meaningful reforms to protect investors from predatory, high-frequency traders," says Schneiderman, but it is not clear from these settlements what those reforms will be. 15  
Which makes sense when you remember that, as far as Light Pool and Crossfinder and LX are concerned, "predatory high-frequency traders" means more or less "high-frequency traders who make money." There is an obvious sense of unease, and unfairness, about the fact that high-frequency traders make money; certainly if you are on the other side of their trades, you might prefer that they made less. But making money is not illegal, and the problem for regulators -- and dark pools -- will be distinguishing what is "predatory" and must be stopped from what is just good trading that makes money.
(
Corrects footnote 10 and related text in article published Feb. 1 to reflect that two high-frequency trading firms, not seven, received router information from "Crosslink."
)
To contact the author of this story:
Matt Levine at mlevine51@bloomberg.net
To contact the editor responsible for this story:
James Greiff at jgreiff@bloomberg.net
Before it's here, it's on the Bloomberg Terminal.
LEARN MORE