U.S. Economy
The War in San Bernardino
December's jihadis did not pose an existential threat. The city has been under siege since 1982.
by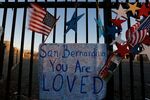 The terrorist attack on Dec. 2 left San Bernardino, California, with 36 shooting victims, 14 dead and 22 injured, and a spectral imprint of international terrorism. "This horrific murder underscores that we are in a time of war," said Senator Ted Cruz of Texas. New Jersey Governor Chris Christie likewise viewed San Bernardino as a new front in a bitter clash of civilizations. "We need to come to grips with the idea that we are in the midst of the next world war," he said.
Yet less than two months after the shootings, the rituals of trauma in terrorism's aftermath, familiar from attacks in other locales, are routinely disregarded in San Bernardino, a struggling city of 210,000. In long interviews with city leaders or short conversations with residents, none felt compelled to mention where he or she had been at the fateful hour. Some presidential candidates seem to view the attack in San Bernardino as evidence of an existential threat to the nation, and invoke it every chance they get. In San Bernardino, it hasn't registered as an existential danger even to San Bernardino. It's rarely mentioned.
The threats to the city are nonetheless real. Some are even global in nature and surely devastating in effect. They have nothing to do with jihad.
San Bernardino has long been at war, and losing. The steady erosion of the American working class, with a commensurate rise in local poverty, has been killing the city for decades. It is now emblematic of some of the nation's most intractable problems -- violent crime, drug addiction, joblessness, urban blight, political dysfunction, low-skill immigration, white flight and widespread civic apathy. Like Detroit, the heaping culmination of those troubles ended in a municipal bankruptcy.
On a two-and-a-half-hour road tour cataloging the city's voluminous trouble spots, my guide, a garrulous San Bernardino police lieutenant named Richard Lawhead, displayed impressive knowledge of the battlefield. At 9:30 on a sunny Southern California morning, a dozen prostitutes plied the streets 100 yards from a downtown school, walking, talking on phones, watching for signals from a man near the corner, assiduously avoiding eye contact with the occupants of the police car.
Leaving them to their business, we drove through working-class neighborhoods that had been commandeered by gangs and never relinquished. Lawhead lingered over a small apartment complex where a young girl had died in a gang shooting years earlier. Adjacent to the drab, low-slung building with compact windows, and its lot of exhausted cars, is a vacant parcel littered with abandoned sofas, auto parts, clothes and lumpy bags of indeterminate content -- a sculpture garden of a particular sort of outsider art.
Later, when Lawhead passed the Inland Regional Center, the site of the terrorist attack just weeks before, I expected at least a spin around the IRC perimeter. We drove right by. "This is the IRC block," Lawhead said as the building slipped out of view. "There's the memorial."
The attack cast the city in a weirdly positive light. Famous for failure, San Bernardino unexpectedly basked in a glow of competence. The police rapidly tracked down the killers, cornered them and killed them, preventing a likely second round of mayhem. Police Chief Jarrod Burguan was lauded for his steady professionalism.
Lawhead, the barrel-chested department spokesman (and a prime exhibit for nominative determinism), is not alone in hoping that the attention showered on the city after the attack might even be the start of something good.
"This city can take advantage of this," he said. "They could take advantage of this in a lot of ways. There are a lot of people out there who are just looking for a place to make their mark and say 'I was part of fixing that.'"
Lawhead's optimism is admirable, even a little infectious. But it comes with a formidable catch. As MIT economist David Autor noted, via e-mail, "We have almost no firm knowledge of how to 'turn around' places in deep decline."
San Bernardino's own efforts over the years have been flamboyantly luckless. Cited as an "All-American" city in 1977, its long, ignominious skid reached a grim destination on Aug. 1, 2012, with Chapter 9 bankruptcy. Other battered cities have traveled a similar route. No one can be certain it's the last stop.

What Went Wrong
The standard litany of San Bernardino's sorrows begins with the closing of the nearby Kaiser Steel plant in 1982, and a loss of 8,800 high-wage jobs. It courses through the once bustling Santa Fe Railroad Yards, where 4,500 jobs were lost in 1986. The knockout blow is credited to Norton Air Force Base, which closed for good in 1995, eliminating the last of its 12,000 jobs. A George Mason University study estimated that, all told, the area lost from 60,000 to 90,000 jobs.
As the jobs left, a white majority was supplanted by Hispanic newcomers, many attracted by cheap housing. The city's population continued to grow, and crime actually declined from the early 1990s to the present. But the pain didn't stop.
San Bernardino awarded public employees unsustainable benefits as pension-fund earnings rose with the stock market in the late 1990s, eventually leading the city to spend more than 70 percent of its general fund on the police and fire departments. Then the subprime mortgage fiasco hit. Foreclosures rose.
According to data and analysis from Black Knight Financial Services, the median home sale price in San Bernardino in 2006 was $326,000. A decade later, with home valuations robust in some nearby towns and prices soaring 50 miles away toward the coast, it's about $216,000. More than 11 percent of homes still have negative equity; the figure nationwide is 6.38 percent. Another subprime detonation may be in the works; one credit analyst said that two of the city's ZIP codes show especially sharp increases in subprime auto debt.
Even San Bernardino's prowess as a transportation hub, linking roads and rails east of Los Angeles, has had a dark side. Mark Ocegueda, a doctoral candidate at the University of California at Irvine, is writing his dissertation on the city's history. He points to the interstate as a kind of killer.
Seated at a table in the Mitla Cafe, a Mexican restaurant founded in 1937 and, incongruously, still going strong, Ocegueda conjured a distant Mexican-American Dream. Route 66, which ran through San Bernardino's West Side, was the backbone of a prosperous Mexican business district that catered to motorists. "There were Mexicans buying a new car every year," he said. "It created a middle-class ethnic identity." The neighborhood featured enough discretionary income, he added, to indulge in elaborate horse pageantry.
By the 1960s, Route 66 had mostly been supplanted by a freeway system that city leaders still regard as crucial to the region's economy. "It was very destructive for Mexican merchants," Ocegueda said.
There are no horse pageants today. According to a 2014 study, median annual earnings on the predominantly Hispanic and black West Side were $21,449, about $9,000 lower than the state median. More than one-third of West Side adults didn't graduate from high school. Gang colors are occasionally on vivid display on the streets, and gang-related fights have been a ritual in some schools for years.
San Bernardino's troubles are not quarantined in one area. Half the city's housing is occupied by renters, according to the U.S. Census Bureau. One-third of residents live below the poverty line; in some neighborhoods as many as two-thirds do. Citywide median household income in 2014 was $38,774 compared with $53,657 nationally.
The downtown intersperses gaping economic wounds -- a vast, largely vacant mall, empty building lots -- with city and county buildings. Homeless men push their accumulated wealth in pilfered shopping carts. A recent Los Angeles Times series, much lamented in the city, featured drug addicts bathing in a stream running through a downtown park.
It's been hard to generate investment in such an environment. Amid the distress, a thriving Starbucks across from the empty mall has become a point of civic pride.
It's unclear if the bankruptcy court will afford the city the leeway it would need to finance aggressive action. Creditors are clamoring to be paid more than the pittance the city proposes. Even if the court complies, the local political culture has trouble mustering consensus. San Bernardino may or may not have relevance to Washington's war against terrorists. But it has much to impart about the cost of relentless political polarization. Whatever hope contrives here, politics usually kills.

Promise of Prosperity
For an alternative vision of the city, where leafy prosperity has replaced the quotidian, concrete struggle, you need only enter a small, windowless room in an annex of city hall. It's the graveyard of San Bernardino plans.
On the floor, a dozen rolled-up blueprints, some yellowed, others still white, are stored upright, poking out of a cardboard box like so many decommissioned missiles. Boxes of other plans are stacked in no particular order around the room. On a platform rests a 3-D mock-up of an imagined city center, featuring a paper-tree-lined corridor of two-story "work/life lofts" waiting to be occupied by miniature downtown hipsters. Other 3-D architectural renderings, similarly contracted and abandoned, rest in peace nearby.
Some plans were modest. Others appear delusional. One, known as "Lakes and Streams," imagined a city center of interconnected waterways. It would have required something on the chimerical order of $200 million in federal funds. No matter. San Bernardino didn't rely on Washington to crush its dreams. It did its own dirty work.
For years, mayors struggled vainly to reach consensus with city councils. Revitalization plans were serially proposed, commissioned and discarded. As budgets ballooned, resentment swelled as people learned of police and fire personnel making four times the city's median household income, with lavish guaranteed pensions. A dysfunctional city charter put public safety compensation on what one study termed "automatic pilot," making it all but impossible to scale back.
The resentment did not overcome the apathy. In city council wards with roughly 30,000 residents, one council member was re-elected in November, unopposed, with a total of 719 votes.
The absent electorate has a ghostly complement in the city's hollowed-out business community. When I asked officials and political players to name the city's business heavies, no one named more than a few -- a couple of local auto dealers make most lists -- and some struggled to name anyone.
"What's happened is a lot of the old business folks made their money and they're gone," said Scott Beard, a real-estate developer who earned a spot in a city-council runoff after collecting 384 votes. "They took everything they could get out of the city for decades. They made theirs, and they're gone."

Blue-Collar Challenge
The San Bernardino Mountains take you by surprise. Turning down a grimy city street on a smog-free morning, passing a stretch of vacant commercial real estate to the strains of a shopping cart barreling over uneven sidewalk, the sudden emergence of snow-capped peaks seems otherworldly. The mountains glisten, towering over the valley. Their proximate power and beauty are doubtless a source of the tenuous optimism that won't die here.
"You know in 20 minutes up Waterman Avenue you're in the snow. You're in the ski area -- Big Bear," said Lieutenant Lawhead. "A lot of movie stars and everything else have homes up there. You can see why people moved to San Bernardino and why it was such a popular place back in the '70s and the '80s is because it's beautiful." 
If all goes well, never a sure bet, the city will soon escape bankruptcy. Its political leadership has largely turned over, so far it seems, for the better. But San Bernardino can't recoup the gritty blue-collar solidity it once had. It would have to build a new economy, and a new civic culture, almost from scratch.
"I'm not under any illusion that we're all of a sudden going to flip a switch and we're going to be the high-tech capital of Southern California," said Beard. "We're a blue-collar city. We need to look at our roots."
Amazon has opened an e-fulfillment center out near the city airfield, the former Air Force base that's now an amalgamation of small businesses -- aircraft demolition and recycling, bonded storage, charter cargo -- making a go of it. The city has other pockets of stability, including its corridor of chain restaurants and hotels adjacent to the freeway and Cal State San Bernardino, both of which it hopes to build out.
But what is the likely fate of any blue-collar American city in the 21st century? A lot of jobs are simply gone, casualties of globalization, deindustrialization and automation. Others no longer pay the good wages that similar jobs in the 1970s and 1980s did. That, as much as anything San Bernardino has or hasn't done, may be the crux of its challenge.
Terrorism will remain a hot topic on the campaign trail, but it's the threat to working-class America that is driving the biggest political drama. And it's that slow, inexorable decline, not a burst of instant violence, that poses the more pervasive danger. Donald Trump's campaign has tapped the anxieties of millions who have fled the nation's San Bernardinos and Detroits, or who fear they'll be forever trapped in their next incarnations. His ubiquitous red baseball cap promises belated shelter from a storm that has ravaged industrial America.
San Bernardino is 60 percent Hispanic today, marrying the industrial decline of the late 20th century to the demographic transformation shaping the 21st. Mexico maintains a consulate right across the street from city hall. Down the block is Molly's, a small, resilient diner festooned with Elvis posters and Route 66 memorabilia. It's a good place to find local politicians. I had breakfast there with the police chief one morning, and with a local reporter the next.
On both occasions I parked my rental car behind the same battered blue Ford Aerostar. The rear window featured a new bumper sticker -- "Make America Great Again Donald Trump." Ford ended production of the Aerostar in 1997. The company closed the Missouri plant where the minivans were made in 2006. Above the Trump sticker on the rear window was an older sticker. The message was faded but still visible. It said something about buying American.
This column does not necessarily reflect the opinion of the editorial board or Bloomberg LP and its owners.