Russia
Shocker: U.S. Knows About Corruption in Russia.
The lame-duck Obama administration can afford to tell the truth.
by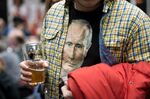 Dmitry Peskov, President Vladimir Putin's spokesman, complained Friday about the "active use of the Russian theme and the subject of Putin in the U.S. domestic electoral game." To any observer of the U.S. election campaign from this week's Ground Zero, Iowa, the statement appears absurd: Few people here care about Russia one way or the other. Nonetheless, it's clear that the last vestiges of diplomatic politeness are fast disappearing from U.S.-Russia relations.