2016 Elections
Iowa Polls Could Be Way, Way Off
Voters might not show up or do what they say they are going to do.
by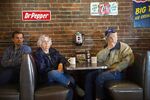 Polls can get it wrong in so many ways. And Iowa, which holds its presidential caucuses on Monday, is one of the most difficult assignments for pollsters.
To begin with, caucuses are harder to survey than primaries, and primaries are more difficult than general elections. Turnout is much lower, and preferences – especially in multicandidate nomination contests – are much less stable. Screening for likely voters is difficult.
And then there are elements specific to Iowa. On the Democratic side, the vote is public. People literally stand up and move to a spot to record their preference for a candidate. Then supporters of those candidates who aren't "viable" -- those who don't have 15 percent of the vote at a caucus location -- have the opportunity to switch to another candidate. So Martin O'Malley's supporters may provide the margin of victory for either Hillary Clinton or Bernie Sanders.
On the Republican side, voters simply indicate their preference, usually but not always by secret ballot, and then can leave. In the case of both parties, voting is preceded by speeches from representatives of the candidates that might sway some voters -- as might cues from their neighbors.
Remember: Most party voters like most of their party's candidates. So hopping from one to the other just isn't difficult. 
Of course, pollsters have another set of challenges this year.
Donald Trump and (to some extent) Sanders are counting on less habitual voters. We have no way of knowing in advance if young people will show up for the Vermont socialist or if loosely attached Republicans will turn out for the reality-TV star. Pollsters can ask for voting intentions, but people in primaries are notoriously unreliable in predicting their own behavior. Sometimes new voters show up. They did in 2008 in Iowa for Barack Obama. Sometimes, as with Howard Dean's supporters in 2004, they don't.
We also don't know the effects of get-out-the-vote operations. These efforts work. But we can't measure how strong the organizations are for each candidate. Reporting appears to indicate that both Clinton and Sanders have strong organizations, with Clinton perhaps having a small edge. On the Republican side, Ted Cruz's team is reportedly the strongest. And his support from Christian conservatives should help. By contrast, we don't know, for example, if Trump's operation is comparable or almost non-existent.
So while the polls are meaningful at this stage, significant shifts -- five, even 10 percentage points for some candidates -- from the final vote count are possible. And individual polls can be way off. As good as the Bloomberg/Des Moines Register/Ann Selzer poll is, always use the polling averages. Mostly, however, we just have to wait for the results.
This column does not necessarily reflect the opinion of the editorial board or Bloomberg LP and its owners.