Economics
Free Trade With China Wasn't Such a Great Idea for the U.S.
Economists ignore how much harm was done to workers.
by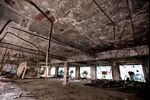 In his recent book "Economics Rules," Harvard economist Dani Rodrik laments how economists often portray a public consensus while disagreeing strongly in private. In effect, economists behave like scientists behind closed doors, but as preachers when dealing with the public.