Declassified
Opposition Says Kerry Threatens Aid in Syrian Peace Effort
The U.S. is trying to bring all sides to the table.
by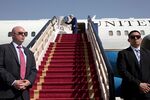 Secretary of State John Kerry told Syrian opposition leaders that they risked losing their funding if they did not attend peace talks, according to Syrian opposition leaders and administration officials.
On Saturday in Riyadh, Kerry met with representatives of the High Negotiating Commission, the opposition's representatives to meet this week in Geneva with the Syrian regime. Afterward, opposition leaders faulted Kerry's efforts, saying he had tried to "pressure" them into giving up longstanding demands. They have insisted that the Syrian dictatorship stop aerial bombardment and starvation sieges of civilian towns, before the opposition sits down with the regime.
Arabic press reports portrayed Kerry as "carrying the dictates of Russia and Iran" and trying to impose them on the Syrian opposition. They said Kerry was moving toward the Russian-Iranian position in several ways, including by expressing support for a "government of national unity" that would usher in elections in which the current president, Bashar al Assad, could run.
After the meeting, Kerry was upbeat about the talks and said he would do everything he could "to try to push this process forward and help to act as constructive catalysts in trying to help the Syrians to bring about the peace that they desire so much."  But opposition leaders said he went too far by threatening them with a loss of international support.
"Kerry said it in the context that if they don't go, it will affect their public image and this may affect the aid they receive from their friends," said Hadi al-Bahra, the former president of the Syrian National Coalition. "It was more speculation than a direct warning, but people understood this as a threat."
An administration official confirmed to me that Kerry told the High Negotiating Commission leaders that their support would be re-evaluated if they didn't attend the upcoming Geneva talks. The Geneva meeting was supposed to start Monday but is now delayed until Friday. The commission is meeting again Tuesday to discuss the issue.
In addition to their concerns about the humanitarian situation and the lack of assurance that Assad will go, the commission is also complaining that Kerry is pressuring them to accept unwanted additions to their negotiating team. The High Negotiating Commission is the broadest representation of Syrian opposition groups yet, but Russia is pushing for it to add Kurdish representatives from the PYD and also opposition figures who have close ties to Russia, including Haytham Manna and Qadri Jamil, two Syrian figures who have lived in Moscow.
Russia is intentionally trying to undermine the prospects of a real negotiation where progress between the regime and the opposition could take place, said al-Bahra. Both sides should have equal power, so Moscow is trying to dilute the opposition by implanting its own proxies.
"The opposition should have equal power same as the regime delegation," he said. "The only way to get around it for Russia and Assad is by really infiltrating the opposition delegation itself or by having multiple delegations. This way they can break the unity of the opposition and achieve whatever they want."
Opposition leaders also say that the U.S. is allowing Assad and his supporters to gain the upper hand by limiting military support to the rebels and allowing Russia to expand its military campaign in Syria, which is largely aimed at killing Western-backed fighters. Last week, Joint Chiefs Chairman Gen. Joseph Dunford said that that Russian military assistance had helped stabilize Assad and that the regime is gaining ground.
"It would be foolish to believe that Assad would actually negotiate when he is convinced he can gain a military victory through Russian and Iranian support against his own people," said Mouaz Moustafa, executive director of the Syrian Emergency Task Force, an American nongovernmental agency that supports the Syrian opposition. "Kerry is on a mission to achieve a diplomatic solution while the White House allows Russia and Assad to entrench his regime through war crimes."
Frederic Hof, a former State Department senior official dealing with Syria, wrote Monday that without some pause in war crimes and crimes against humanity by the Assad regime, no real peace negotiation is possible. But because Russia and Iran have not stopped Assad's slaughter, Kerry has decided to pressure the opposition to give in.
"Secretary of State John Kerry is eager for talks to begin. His heart is in the right place," Hof stated. "And God knows it is far easier to lean on and pressure Syrian opposition figures to show up in Geneva on an appointed date and a designated time than it is to persuade Russia and Iran to get their client out of the business of mass terror and collective punishment."
There is a huge and growing gap between the Obama administration's rhetorical policy on Syria and its functional policy. Publicly the White House says its strategy is to increase pressure on the Assad regime to compel it to negotiate in good faith toward a democratic transition. But in practice, America's policy is to increase pressure on the Syrian opposition to compromise with Assad, even to the point of allowing him to remain in power.
The Syrian opposition leaders may cave in and attend, as they have twice before, in order to keep their funding and support. But in doing so, they may sacrifice their influence on the ground, undermining the whole effort.
To contact the editor responsible for this story:
Philip Gray at philipgray@bloomberg.net
Before it's here, it's on the Bloomberg Terminal.
LEARN MORE