2016 Elections
Your Republican Tip Sheet: The Updated Odds
Trump still leads, but Rubio is a strong buy.
by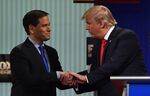 On the eve of the second-to-last weekend before the voting starts in Iowa, the Republican contest remains unsettled. Not much seems to have changed in the last month. Donald Trump still leads national polls. He and Ted Cruz are dead even in Iowa. Jeb Bush remains the endorsement leader, with Marco Rubio second, but most Republican governors and members of Congress are still on the sidelines.
Once again, let's look at the race through the odds posted on prediction markets, this time the aggregator PredictWise.
Donald Trump (43 percent): Big sell. Yes, he received some lukewarm praise from a few high-profile Republicans who were mainly interested in bashing Cruz. But there's no serious sign that any party actors want him to be their nominee. His polling lead, meanwhile, is not as impressive as it might seem. As Steve Deace says, "Trump probably needs to be at least five points ahead to withstand Cruz organizational advantage" in Iowa. There's a chance he'll deflate if he loses in Iowa, though he probably wouldn't win the nomination even if his support remained at current levels.
Marco Rubio (28 percent): Big buy. Remains the most likely nominee. The bad news? His momentum with high-profile endorsements has stalled. So has his polling, nationally and in the early states. He's been heavily targeted by other candidates, especially Bush. He has no buzz in the national press right now.
The good news? Despite all the attack ads, Rubio remains solidly third in Iowa polling, and essentially tied for second in New Hampshire. Below the surface, he's still picking up endorsements at the state level. Since Dec. 21, he's added 70 current or former state lawmakers (for a total of 228), compared to 26 for Cruz (191 overall), 31 for Bush (185), 9 for John Kasich (140), and 24 for the rest of the field combined. He remains the most likely of the mainstream conservative group to survive Iowa and New Hampshire, and the most likely of that group to win if he makes it through the early events.  
Ted Cruz (13 percent): Mild buy. Sure, those who have worked with him can't stand him. That doesn't seem to prevent other party actors from supporting him. That backing still doesn't appear to be a conventional winning majority within the party, but he would have a real chance of winning a three-way contest with any two others after the field winnows, and would probably beat Trump one-on-one. At the moment, he's the candidate most likely to survive the first four events and get to March; that's worth something.
Jeb Bush (10 percent): Hold. His polling numbers are terrible, but if he can manage to beat Rubio, Kasich and Chris Christie in New Hampshire, he would become a strong contender, and he's only a few percentage points behind them in the polls.
Chris Christie (2 percent): Buy. His December media surge never really showed up in polling numbers. And if he does make it through New Hampshire, he's probably too liberal (among other difficulties) to defeat anyone but Trump one-on-one. He would be a surprise, but a path still remains for him.
John Kasich (2 percent) Buy. Polling averages put him either third or second in New Hampshire right now. So he's somewhat more likely than Christie or Bush to win the mainstream conservative (Rubio, Kasich, Christie, Bush) primary in the Granite State, and probably more likely than Christie and perhaps as likely as Bush to be nominated if he can make it out of the early states.
Ben Carson (1 percent). Sell. Not even a glimmer of a late Iowa resurgence.
Mike Huckabee and Rick Santorum. (0). Sell, if the rules allow it. Until this week's Iowa polls, they would have been a buy. Dramatic late movement is possible in Iowa, and there was always a chance that Cruz would collapse for some reason. If either of these former Iowa winners had recaptured social conservatives, even with a second- or third-place finish, there could be a case for them to go all the way. But it hasn't happened.
Everyone else (0). No, it's not going to be Carly Fiorina, Rand Paul, Jim Gilmore or some compromise candidate at a contested convention.
This column does not necessarily reflect the opinion of the editorial board or Bloomberg LP and its owners.