Cities
Solving New York's Outer-Borough Jobs Mystery
The government changed its calculations. Brooklyn still grew pretty fast.
by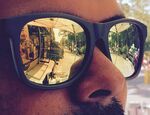 The New York City borough of Brooklyn has been having a great economic recovery. That's undeniable. But it turns out that some of the claims in my column Thursday about just how rapid the pace of job growth has been in Brooklyn and New York's other outer boroughs were exaggerated.
I accurately reported the data published by the Bureau of Labor Statistics, and the BLS data itself isn't wrong. But Brooklyn didn't really add jobs at a 4.3 percent annual pace from 2007 to 2015; my new estimate is that the rate was close to 3 percent. For the Bronx, Queens and Staten Island, the real growth rates were around 1.9 percent, 1.8 percent and 0.9 percent, respectively.
What happened? The BLS made its New York City borough-level job data more accurate last year -- and in the process less comparable with previous years. Agency economists can't say exactly what happened, because employer-level data is confidential. But the BLS is always pushing employers to report jobs based on where people work rather than where headquarters is, and its data show a big shift of local-government jobs (probably somewhere between 170,000 and 180,000; seasonal factors make it hard to say exactly) out of Manhattan and into the other boroughs at the start of last year.
Most of that change came in the educational services subcategory of local government. In Manhattan, employment in local-government educational services dropped from 168,758 in December 2014 to 41,820 in January 2015. In Brooklyn, it rose from 8,609 to 49,810. The New York City Department of Education is based in Manhattan. Most of New York City's public schools aren't. You get the picture.
I didn't get the picture because I was simply comparing total employment levels in 2007 with employment levels in 2015. I did get a bit curious when I calculated which sectors added the most jobs in Brooklyn during that period and found local government to be the runaway leader. I mentioned this in an e-mail Thursday night to Jed Kolko, the real estate economist whose research had first alerted me to Brooklyn's big job gains. He dug around and reported back that there had been a sharp drop in overall Manhattan employment and a rise in outer-borough employment at the beginning of last year. I slept on it, then woke up at 4:30 a.m. and started building this chart:

After that, I had to redo my other charts. None of the research by Kolko that I cited in my column, on the relative growth rates of urban versus suburban counties, was affected by this change, because all five boroughs are classified as urban counties. But my county job-growth rankings and sectoral breakdown of Brooklyn's job growth needed to be revised.
My adjustments didn't rely on fancy statistical procedures; I just took the change in local-government employment between December 2014 and June 2015, then backed out the seasonal drop that always occurs between December and June (I took the average decrease over the previous five years), and used this to adjust the final employment numbers. Not perfect, but close enough. My new top-15 counties list looks like this:

So Brooklyn isn't No. 1 anymore, but it still makes the list. The Bronx and Queens come in 20th and 25th.  If you restrict it to really big counties -- those with more than a million people -- New York City's boroughs remain dominant.

This is a remarkable list. Two sprawling Texas metropolises on the rise (although of course Houston may now be in for trouble because of the oil-price collapse) and three crowded New York boroughs on the comeback trail, with Brooklyn leading the way.
What's driving the growth? The original chart I drew up for Brooklyn indicated that local government was the biggest factor. Now it's not even in the top 10.

This job picture actually looks a lot healthier than the one dominated by local government. The fastest-growing category in percentage terms, leisure and hospitality, doesn't pay well (average weekly wage in Brooklyn: $456) but does at least fit with the borough's new image as a dining and entertainment hotbed. And two of the other categories that have been growing faster than 5 percent a year, professional and business services and information, include lots of really good jobs.
New York City's overall growth looks more balanced, too. Before, the outer boroughs all seemed to be booming while employment in Manhattan -- where most of the city's jobs are -- was only growing at 0.07 percent a year. My revisions boost Manhattan's growth to about 1 percent a year.
Would it have been better to have figured all this out before I wrote my column Thursday? You betcha. But I was relieved to see after adjusting the data that the main argument still holds up: Brooklyn really is a boom borough.
This column does not necessarily reflect the opinion of the editorial board or Bloomberg LP and its owners.