Russia
Repression or Reform, Putin Must Decide
Chechnya's leader has offered himself as a "jackal exterminator" to keep opposition in check.
by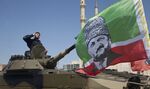 With oil priced at less than $30 per barrel, the ruble down 10 percent so far this month and no coherent government plan for dealing with Russia's deepening economic crisis, President Vladimir Putin faces a choice similar to that of the last Soviet leader, Mikhail Gorbachev: Should he relax controls on the economy, rein in external assertiveness and engineer a rapprochement with the West -- or take the path of domestic repression?
The former option, which Gorbachev eventually chose after trying unsuccessfully to put down revolts in independence-minded Soviet republics, is unpalatable to Putin, who has missed one chance after another to liberalize his regime. That has clearly occurred to proponents of the second, repressive option, and the most impatient are now making their case more clearly than ever before.
Foremost among these is Ramzan Kadyrov, head of the formerly separatist republic of Chechnya, who switched to Moscow's side at the beginning of Putin's rule and, with the Kremlin's financial help, turned the region into a tightly-controlled personal fiefdom. Kadyrov has recently made a series of statements designating "non-systemic opposition" -- Putin foes who are not part of his "power vertical" or obedient parliament -- as "enemies of the people," a charged term in Russia since the Stalin reprisals.
Kadyrov tolerates no criticism of his rule in Chechnya. Among other responses, he has forced opponents to record abject apologies and posted them on the Internet. He began his campaign against Putin's opponents on Jan. 12, accusing them of "trying to profit" from the nation's economic trials. "Such people should be treated as enemies of the people, as traitors," he said. He named no names, but his remarks gave rise to indignation on the social networks. In a video that promptly went viral, a regional legislator in the Siberian city of Krasnoyarsk called Kadyrov "a disgrace to Russia." He was promptly forced to apologize, proving that Kadyrov could reach anywhere in Russia, using the influential and sometimes fearsome Chechen diaspora.
Putin's normally docile human rights ombudsman, Ella Pamfilova, accused Kadyrov of doing the country and the president a disservice by hinting at extrajudicial reprisals against the opposition. She let it be known that no apology would be forthcoming from her.
Kadyrov was unabashed. In an Instagram post, he wrote: "I didn't threaten them. If they took my opinion as a threat, they understand that we are for Russia, for your Fatherland and mine, that we've died for it and we are ready to do anything to protect it." He even penned a column for the pro-Kremlin newspaper Izvestia, this time lashing out at the few remaining independent or anti-Putin media outlets, which, according to him, carry the opposition "jackals'" hateful anti-Russian messages. Kadyrov wrote:
Those who call for a dialog with jackals, who dream of the destruction of our state may never wash off the cowardly dog smell. As Russian President Vladimir Putin's foot soldier, I will never play along with murderers and traitors to my country.
He went on that he had plenty of room for opposition leaders at a psychiatric hospital in Chechnya:
Where one injection is prescribed, we will give them two.
In a simultaneous post, Magomed Daudov, speaker of the Chechen legislature and Kadyrov's ally, hinted at a few specific "American dogs": anti-Putin politician Ilya Yashin, human rights activist Lev Ponomaryov and Alexei Venediktov, the editor of Ekho Moskvy radio.
The Kremlin's reaction to this verbal offensive from its Chechen allies is best described as sleepy. "If you read it carefully, he's talking specifically about the non-systemic opposition," Putin spokesman Dmitry Peskov said of Kadyrov on Wednesday. "It's those who are outside the country's political field, those whose political activity is outside the legal framework and who are willing to break the law to harm the nation." Putin, Peskov said, was happy to work with legitimate opposition politicians. In other words, there was nothing wrong with Kadyrov's rhetoric.
The Chechen leader's motives in talking up a storm about "jackals" are mixed. Chechnya has received more federal aid than any other Russian region -- 464 billion rubles between 2001 and 2015. That's $5.6 billion at the current exchange rate, but at least twice as much in reality, because the ruble was much stronger at the time the money was dispersed. That's a lot of money for a tiny mountainous area with a population of 1.4 million. Now, this torrent of cash is slowing. The government has decided on a 10 percent budget sequester, but that was while the oil price was closer to $40; deeper cuts will be necessary. At the current oil price, Russia will need to let the ruble slide by a further 60 percent to balance its budget. Even TASS, one of Russia's two official news agencies, is in arrears on wages.
Putin has been paying Kadyrov to keep his incendiary region calm and, although that remains a priority, the former warlord must feel insecure and compelled to prove his loyalty to Putin. One way to do this is to offer to be his strong arm. As it is, one of Kadyrov's lieutenants has been charged with last year's murder of opposition politician Boris Nemtsov.
This places Putin in a difficult situation. He cannot publicly rebuke Kadyrov, because he's probably about to cut his funding and the last thing he needs is instability in the Caucasus. At the same time, he doesn't need Kadyrov's brand of freelance retribution just yet: Judging by his recent public appearances and Peskov's anodyne statements (he said on Thursday what was happening to the ruble wasn't a crash), the Russian leader still hopes to muddle through somehow, without losing political support. Kadyrov is challenging these wait and see tactics.
Putin probably has no desire for a mass intimidation campaign to stop an increasing number of labor protests -- December saw 53 of them, an eight-year record -- from turning into something bigger and more dangerous to his authority. Yet he cannot sit on the fence forever: Given the gloom in energy markets, he cannot even promise Russians light at the end of the tunnel. The repression that Kadyrov is advocating may look more and more attractive to Putin, as the fairy tale of economic prosperity that his leadership once offered begins to crumble.
This column does not necessarily reflect the opinion of the editorial board or Bloomberg LP and its owners.