view
Putin Seeks to Benefit from an Alleged Rape in Berlin
Moscow uses the Russian diaspora's fear of Muslim refugees to stir up trouble for Angela Merkel.
by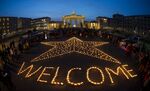 A recent incident in Berlin and the way it has been blown up by the Russian state propaganda machine provides an insight into President Vladimir Putin's tactics toward Europe. He's actively using the continent's refugee crisis and the Russian-speaking disapora's wariness about it to destabilize governments that are hostile to him, including Chancellor Angela Merkel's in Germany.
On Jan. 11, a 13-year-old girl from a Russian-speaking family in Marzahn, a neighborhood of ugly Communist-era high-rises in the east of Berlin, left for school but didn't come back. Her worried parents filed a missing person's report, but the girl showed up the next day. Soon, the social networks filled with reports that the middle school student had been kidnapped and raped by several Middle Eastern men who had lured her into a car, promising to drive her to school.
German extreme nationalist groups and Russian state television seized on the story. On Jan. 16, the most-watched Russian TV station, Channel One, ran a story on the alleged rape, in which a woman introduced as the girl's aunt said three men had had their way with the 13-year-old for 30 hours, beat her up and "tossed her out into the street." Channel One's Berlin correspondent, Ivan Blagoy, said the family was scared the German social services could take the girl away after the incident. Other Russian-speaking Marzahn residents spoke to Blagoy about their fear of having their children walk past the area's refugee shelter.
Blagoy's report included footage from a rally to protest police inaction, at which the local group fighting to have the shelter closed counted 200 Russian-speaking protesters and 30 Germans.
Berlin police, however, issued a terse statement saying it had investigated the incident and determined that no kidnapping or rape had taken place. And German lawyer Martin Luithle filed a report with the authorities calling for an investigation into Blagoy's story, accusing him of misrepresenting the facts to incite ethnic hatred and portraying a rally by the extreme right group NPD as a genuine protest by Russian-speaking emigres.
The emigres are worried indeed, though. Parents at the bilingual Russian German school my daughters attend have demanded increased security. Many believe the Russian TV report and distrust the Berlin police, believing them to be biased toward Middle Eastern immigrants for political reasons.
Reports of sexual harassment and rape by refugees have proliferated since the events in Cologne on New Year's Eve. Police were powerless to stop large groups of Middle Easterners from molesting and robbing hundreds of women, sparking nationwide outrage and undermining Merkel's policy of welcoming refugees from Syria and other Middle Eastern countries. The crime spree was a godsend to nationalist groups like the NPD, which now present their fight against immigration as a righteous one to defend German women. 
It's hard to believe the rumors these groups now spread about the immigrants. The police chief was fired after the New Year's Eve disaster and the police are hardly interested in covering up migrant crime.
More intriguing is Putin's interest in the events, manifested in the more-than-prominent play Channel One and several other pro-Kremlin news outlets have given the "raped Russian girl" story. During a meeting with European Jewish leaders in the Kremlin on Tuesday, one of his visitors complained about the rise of anti-Semitism in Europe, caused by the continent's inability to "handle civilizational and migration challenges." Putin responded by saying European Jews could move to Russia, where they'd be safer. "They left the Soviet Union, now let them come back," Putin said.
At least a third of Germany's 3-million-strong Russian diaspora is made up of Jews who left the Soviet Union and its former constituent parts in the 1980s and 1990s. Putin has clearly heard about some of these emigres' concerns with the increasing Muslim immigration and, like the German extreme right, he's trying to score a political point by telling these people they would be better off in Russia. 
That's hardly his only goal. The far-right parties are his allies in opposing Europe's centrist governments, which have united to sanction Russia for its depredations in Ukraine. Activists of Germany's Islamophobic movement Pegida often wave Russian flags at their rallies. Now, the Kremlin is also using its far-reaching propaganda outlets to whip up support for these movements among the Russian-speaking diaspora. 
What actually happened to the girl in Marzahn is the last thing that matters to those playing this game. Putin is acutely interested in stirring up trouble for Merkel in every way he can as he tries to wrong-foot her in talks on Ukraine and the sanctions. 
Inevitably, after Cologne, the refugee issue is getting so politicized and drawing such nasty external actors that the real issues -- improving the rather lax policing of German cities and educating the new arrivals about European culture and laws -- becomes obscured. Merkel's moral imperative in helping the refugees is no less clear than before, but it's increasingly more difficult to handle the challenge with a cool head.
To contact the author of this story:
Leonid Bershidsky at lbershidsky@bloomberg.net
To contact the editor responsible for this story:
Therese Raphael at traphael4@bloomberg.net
Before it's here, it's on the Bloomberg Terminal.
LEARN MORE