Companies
GE Is No Longer a Bank
Most profit now comes from making and servicing products, not lending money.
by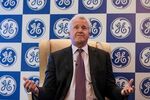 A month after Electrolux's $3.3 billion bid to buy its appliance business fell through because of antitrust concerns, General Electric has now agreed to sell the unit to China's Qingdao Haier for $5.4 billion. If the deal goes through this time, it would complete a divestment that has been contemplated since early in GE Chief Executive Officer Jeff Immelt's tenure. Which makes this as good a time as any to look at how GE has changed since Immelt took over on Sept. 7, 2001.
Here's how GE made its money that year:

As you can see, appliances were an afterthought even in 2001. GE made its money by selling big equipment to big customers and servicing it, not selling fridges to you and me. Well, that, and it also made its money by lending it. Immelt's predecessor, Jack Welch, had built GE Capital into the company's biggest source of profit.
GE had become an industrial corporation with a giant bank -- or, more accurately, a so-called shadow bank, since it didn't have deposits -- attached. In the financial crisis, though, it turned out that GE was really a giant shadow bank with an industrial corporation attached. The company had a near-death experience, and Immelt eventually resolved to get out of finance except when it directly supported GE's other businesses. Now, excluding the appliance division and the parts of GE Capital that are still slated to go, the company's profit sources look like this:

So GE Capital now plays a much smaller role. Apart from that, though, the company's three biggest sources of profit in 2001 are the three biggest sources of profit now. GE's acquisition of Alstom's energy businesses, which closed in November, will boost earnings in Power, Renewable Energy and Energy Management but won't dramatically change the overall picture.
The big new addition of the Immelt era is Oil & Gas, which provides products and services for drilling and transport and was built out of many acquisitions. The big subtractions, other than GE Capital, have been NBC -- which Immelt initially expanded by acquiring Universal, then sold 51 percent of it to Comcast in 2011 and the rest in 2013 -- and Materials, which included the GE Plastics division where both Immelt and Welch had worked.
Overall, the core of the company is ever more clearly aircraft engines, power turbines, medical equipment and other big-ticket industrial products. GE remains very good at making, selling and servicing these things. Bloomberg Intelligence analyst Karen Ubelhart calculates that organic growth in GE's industrial businesses has averaged 5.5 percent a year since 2011, compared with 4 percent for its U.S. peers.
In his final letter to shareholders in February 2001, Welch expansively called GE a "Global Learning Company." Immelt referred to it this week as a "high-tech global industrial company." There are worse things to be.
This column does not necessarily reflect the opinion of the editorial board or Bloomberg LP and its owners.