2016 Elections
Forget Debates. We Want Real Answers.
If candidates got the questions in advance, maybe they'd respond instead of shouting.
by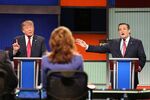 Everyone seems to agree that Thursday's Republican presidential debate was slashing and angry; the candidates barely said anything of substance. If we are going to avoid the same sort of nonsense when the actual Democratic and Republican nominees duel in the fall, we will need to make major changes in the format. I would rather eliminate the presidential debates entirely, given that they are neither debates nor presidential. Given that abolition isn't an option, however, I have a radical suggestion for improving their quality: Give the candidates the questions in advance.