2016 Elections
The Republican Debate Actually Matters
These performances will affect early voting more than the past rounds and more than the next.
by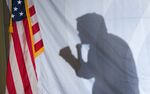 If you're going to watch one Republican debate in this primary season, the one on Thursday night should be it. Why not wait for the Jan. 28 debate, the last one before the voting starts?
Two reasons.
1. We're far enough from the Iowa caucuses on Feb. 1 that a candidate who has a good debate could see an uptick that turns into a surge.
2. But this one isn't so far away that such a surge will dissipate before the voting starts. 
Donald Trump is attacking Ted Cruz, and Cruz is attacking Trump. Marco Rubio is going after Chris Christie. Jeb Bush is attacking everyone, and everyone is attacking Rubio. Perhaps before this is over John Kasich will accidentally attack himself.
At the debate itself, a candidate (Cruz?) may invoke Ronald Reagan and swear off attacks, putting pressure on the others. Confronting a rival in person is different from running an attack ad, or even making negative comments at a rally. After all, most Republican primary voters like most of the candidates. Denouncing one of them (as opposed to lambasting Hillary Clinton or Barack Obama or the media) runs the risk of a backlash. But because the attack ads and comments are on the minds of engaged voters, ducking it in person is risky, too. 1
Fox Business moderators may not give the candidates any choice, if they directly ask a candidate to repeat and justify an attack.  
With only seven (!) candidates in the main event -- Trump, Cruz, Rubio, Ben Carson, Bush, Christie and Kasich -- each will have more time to make a mark. 2 It also creates a new challenge for Trump. In past debates, both Trump and Carson have tended to disappear for long stretches, Trump whenever the topic is anything other than himself and Carson when policy details are up for discussion. In the smaller group, their absences may seem more obvious, even damaging, if the others are engaging on the issues without them. 
Remember: Debates aren't about persuading voters to support the candidates, at least not directly. Yes, a candidate can "teach" voters about one or two things they will like about him or her, or one or two things they won't like about an opponent. 3  More important is to create momentum that party actors and the press believe in. This will allow a candidate to get the attention that can lead to higher polling numbers, which reinforce the belief in the candidate's momentum.
This challenge is especially true for Rubio, Bush, Christie and Kasich, all basically tied in New Hampshire right now. By the time the Granite State debate rolls around on Feb. 6, it may be too late for one or more of them. 
Early in the 2012 cycle, Tim Pawlenty's reputation was damaged when he backed down in a debate on Obamacare attacks he had lobbed at Mitt Romney.

Rand Paul is still begging to be allowed in. If he fails, he'll boycott the undercard, which features Carly Fiorina, Mike Huckabee and Rick Santorum. 
To contact the author of this story:
Jonathan Bernstein at jbernstein62@bloomberg.net
To contact the editor responsible for this story:
Katy Roberts at kroberts29@bloomberg.net
Before it's here, it's on the Bloomberg Terminal.
LEARN MORE