Editorial Board
Terror in Jakarta
The first step for Indonesia is to not overreact.
by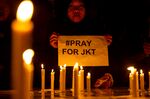 Thursday's brazen attacks in downtown Jakarta raise a frightening specter: that Islamic State might gain a foothold in the world's most populous Muslim nation. As elsewhere, though, the best way to meet this threat is to appreciate its limits and not overreact.
Much remains unclear about the daylight assault in which gunfire and explosions rocked one of the main thoroughfares of Indonesia's capital, near offices occupied by the United Nations. But several hours after the attacks, Islamic State claimed responsibility, and Indonesian officials have cited Bahrun Naim, an Indonesian fighting with the group in Syria, as the plot's ringleader. In recent weeks, authorities have detained nearly two dozen other suspected militants amid fears of a plot to target civilians over the holidays. Australia's attorney general warned last month that Islamic State hoped to establish a "distant caliphate" in Indonesia.
QuickTake Fighting Islamic State
On paper, Southeast Asia would appear especially vulnerable to Islamic extremism. An alphabet soup of radical groups continues to evade authorities across Indonesia and the Philippines, often in remote areas ideal for hiding training camps. Laws and border controls can be lax; Indonesia, for instance, has moved slowly to criminalize going abroad to join a terror group. Meanwhile, a more conservative brand of Islam, spread in part by Wahhabi-funded mosques and madrassas, has become increasingly popular in both Indonesia and multiethnic Malaysia. Attacks on Myanmar's Rohingya Muslims have become a rallying cry across the region.
At the same time, the region's existing terrorist groups are small, scattered and relatively ineffective. While some have pledged allegiance to Islamic State, their influence remains weak. Indonesian prison officials have been able to divide and isolate some factions with almost comic ease. And Southeast Asian governments have recently increased their intelligence sharing and efforts to counter Islamic State's online appeals.
While the number of Indonesians who have left to fight in Syria and Iraq is unclear, an official estimate of about 700 is almost certainly too high. Only about one in a million Muslim Indonesians has taken up arms with Islamic State, the U.S. Agency for International Development estimates; in France, the proportion is 18 times that.
Certainly there's more that governments in the region can do. Counterterrorism officials need to improve their ability to analyze and undermine Islamic State's social media communications, for example. Prison officials should cut off terrorism detainees' access to the Internet and mobile phones, as well as intensify efforts to combat recruitment from inside jails. Prison, police and intelligence officials could work much more closely together to create a fuller picture of known terrorists and their networks.
But there's a reason that Indonesia has proven generally resistant to Islamic extremism. Like India, which also has one of the world's biggest Muslim populations, it is a stable democracy that protects the rule of law and open expression, and it has a long tradition of religious tolerance. As authorities confront this latest threat, they can find strength in these virtues.