Declassified
U.S. Forces Tied by Old Rules in Afghanistan
Officers say they can't effectively fight Islamic State under rules written for an exit strategy.
by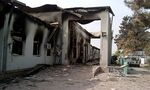 As the Afghanistan war grinds into its 15th year, many U.S. military officers are telling Congress their hands are tied to go after the enemy, particularly the Islamic State, which is building up its presence in the country despite fierce opposition from the Taliban.
Current and former U.S. military officials tell me that the U.S. and NATO mission in Afghanistan is almost entirely focused on the re-emergence of al Qaeda and that strikes against Islamic State leaders are scarce.
Afghan news media reported one such strike over the weekend in the province of Nangarhar.  In July U.S. airstrikes reportedly killed Hafez Saeed, an Islamic State leader in what the group has called its Khoresan Province. But U.S. officials tell me the rules of engagement in Afghanistan are highly restrictive.
"There are real restrictions about what they can do against the ISIS presence in Afghanistan," Mac Thornberry, the chairman of the House Armed Services Committee, told me about the rules of engagement for U.S. forces in Afghanistan.
Thornberry said that the rules of engagement, combined with what he called micro-management from the White House, have led military officers to tell him they have to go through several unnecessary and burdensome hoops before firing at the enemy.
"My understanding is it's a very confused, elaborate set of requirements," Thornberry said. "I think the effect of going through all of that makes it harder for our people to conduct their missions."  
He would not get into specifics about the rules, saying, "If the public were able to know all the restrictions placed on our troops, they would be unhappy about it, and if the enemy knew this they would have more of a leg up than they do now."
Col. Michael Lawhorn, a spokesman for U.S. Forces, Afghanistan, declined to comment on the rules of engagement for this column.  
Congress is focusing on the rules in Afghanistan after Green Beret Staff Sgt. Matthew McClintock was killed last week in an operation to assist Afghan national security forces in a battle against the Taliban in Marjah, in Helmand Province. A news site run by special operations veterans called Sofrep reported last week that the restrictive rules were one reason it took so long for a Quick Reaction Force to  come to the aid of McClintock's Green Berets when they were pinned down in Marjah.
A Pentagon spokesman last week disputed an element of that report, saying that an AC-130 gunship was never waived off in the rescue mission and that it fired at Taliban positions in the fight.
Nonetheless, some lawmakers are asking more questions. Representative Ryan Zinke, a retired Navy SEAL and Republican member of the House Armed Services Committee, wrote Defense Secretary Ash Carter to ask whether the current rules "restrict the immediate use of assets on hand" in the Marjah rescue operation. Eight other Republican House members also signed the letter.
Thornberry told me Pentagon officials have briefed him about the battle, but he still has questions. "I want to know what happened and why and what the other options were," he told me. "Whether it was formal rules of engagement or having to call back somewhere and ask 'Mother, may I.'"
President Barack Obama intended for this fighting to be over by now. He signed off on a plan to withdraw all U.S. troops from Afghanistan by the end of 2014. At the end of that year, Obama reluctantly agreed to leave a little less than 10,000 U.S. forces in the country. But those forces were no longer technically engaged in a combat mission. They were there to "advise and assist," to use the military's favored phrase.
In the last year, however, U.S. forces and the Afghan soldiers they advise and assist have been very much involved in combat as the Taliban increases its territory, al Qaeda expands and the Islamic State begins to establish its own foothold there.
This newly complex war, and the importance of rules of engagement, became obvious in October, after U.S. combat aircraft bombed a Doctors Without Borders hospital in Kunduz, killing 30 civilians.
U.S. military officials have said the special operations forces operating the AC-130 gunship that attacked did not follow rules of engagement; they fired even though there was no video feed of the target on the ground. That failure has placed U.S. forces in Afghanistan under greater scrutiny.
David Sedney, who served as deputy assistant secretary of defense for Afghanistan, Pakistan and Central Asia between 2009 and 2013, said the rules in Afghanistan were worrisome because they limited how U.S. forces can support their Afghan allies. "The rules of engagement appear to be confused, contradictory and contrary to our national interest," he told me. "Our inability to use air power to directly to support Afghan forces is leading to a deterioration of the security situation that is dangerous to the future of Afghanistan and dangerous to our national security."
The Obama administration still hopes there won't be much more fighting to do. On Monday, Afghanistan, China, Pakistan and the U.S. announced meetings aimed at restarting the stalled peace process with the Taliban to finally end the war in Afghanistan.
In the meantime, the rules of engagement are written as though that war had already ended. But U.S. forces in Afghanistan are still fighting it, as best they can.
This column does not necessarily reflect the opinion of the editorial board or Bloomberg LP and its owners.
To contact the author of this story:
Eli Lake at elake1@bloomberg.net
To contact the editor responsible for this story:
Philip Gray at philipgray@bloomberg.net
Before it's here, it's on the Bloomberg Terminal.
LEARN MORE