U.K.
Reform the EU? Changing the U.K. Matters More
Britain does have special problems, but the solution lies mainly in the U.K.
by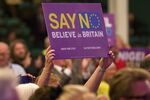 Last week Britain's David Cameron made a rare visit -- for a Western leader -- to Hungary's pariah-like Prime Minister Viktor Orban. Cameron can't be picky: He needs all the friends he can get to secure agreement for the "fundamental" change to the EU he has promised Britons so they can vote to stay in the bloc in a referendum.