Media
Next Owner of the New Republic Needs a Better Vision
A Facebook founder's tenure was ambitious but counterproductive. Now he's selling the husk.
by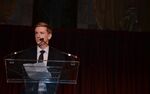 Ten years ago, Jack Shafer described the life cycle of the new magazine owner, from the birth of a media mogul, shining with hope, through the penny-pinching decline, to the regretful decision to sell the publication to a new sucker, er, aspiring media mogul. Four years ago, Facebook billionaire Chris Hughes bought the New Republic, and gave Shafer a perfect textbook example. Like one of those glorious butterflies that lives only for a day, Hughes dreamed, expanded, contracted, and announced the sale in what may be record speed.
Unfortunately, the end of Hughes as media mogul will not simply mean a quietly tasteful memorial service at his fabulous farmhouse. During his brief tenure, the magazine lost most of its old staff, half its web traffic, and much of what might have interested a potential buyer. Perhaps Hughes has a buyer ready to sign on the dotted line, which would be great news for the staff and for those of us who have read and loved this storied stalwart for decades. But it's hard to argue that his actions over the last few years have made that outcome likely.
What, after all, is a magazine? It doesn't own its own printing presses, it has little in the way of marketable intellectual property, and the barriers to entry into our industry are laughably low. In the end, when you buy a magazine, you have a brand, invested with the history and associations of all your years of operation; you have some editors and writers, who may leave at any time; you have an audience that may flee at any time; and you have a culture, created by all the people, past and present, who have worked there over the years.
Hughes effectively destroyed the culture with his abrupt termination-by-rumor-item of much-loved editor Franklin Foer, which caused a mass exodus of employees. The brand was, to say the least, not enhanced when many of its star alumni severed their contributing editor ties in solidarity. These things caused the audience to fall precipitously. What he has now is essentially a year-old startup progressive magazine with middling web traffic.
To be fair to Hughes, it's not as if TNR's problems started with him. The magazine, on the losing side of the left's battles over the Iraq war, had been teetering on the edge for years. Hughes certainly intended to extend its life; whether he had the opposite effect, we'll never know.
I'm sure he wanted to make the magazine into something great. But "be something great" is not a sufficient guideline for growing or running a media property. From the outside (I recall), journalism looks dead easy: Just find great stories, write them up, and collect the accolades while sipping fancy cocktails with famous people. From the inside, it turns out to be horribly difficult to acquire a decent audience, much less make money off of them -- and often, the amount of accolade-winning content is inversely proportional to the amount of cash you'll take in.
As I wrote last year, when the conga line of employees was snaking out the door toward other publications, it was not crazy for Hughes to think that he could develop the magazine into something like the New Yorker for Washington. It was, however, crazy to think that anyone could make money doing so. And it was even crazier to think that vague visions like "The New Yorker for Washington" was sufficient guideline for turning the New Republic around.
What Hughes needed was a coherent vision of The-New-Republic-But-a-Little-Different, based on an understanding of the challenges and joys of this industry. And yet in past interviews, he sounds more like someone unconnected with the business, describing a hypothetical publication he might like to subscribe to. His management of the business, running through three editors in less than four years, doesn't suggest that there was some sort of deeper, unspoken plan.
It seems perhaps he was trying to run a startup, instead of navigate a turnaround.
A lot of people make this very mistake. Perhaps the most vivid example is then-new President Obama asking why ailing automakers "can't make a Corolla?" There's nothing wrong with that question as a starting point for understanding the differences between U.S. and Japanese automakers. But that's not how such questions usually get asked. Instead, like "The New Yorker for Washington," they usually embed an assumption that an existing firm is one good manager away from turning into a completely different and much more successful entity.
The answer to questions like this is "because they're not Toyota" (or The New Yorker, or whatever other successful firm you'd like to turn your industry laggard into). The company you're working with has its own history, its own facilities, its own people and cultures. And these things tend to be optimized to whatever they've been doing, not whatever you think they should have been doing. The offices and plant were built to spec, the people hired and retained to suit prior requirements, the processes customized to the people and plant the company had available. You can no more wave your hand and command them to transform into a different firm than an alchemist could transform lead into gold.
Am I saying that companies can't bounce back from the brink of extinction? Not at all! Look at something like the incredible turnaround at Porsche, which came close to being sold off for the value of its logo, and came back to be one of the world's most profitable car companies by implementing lean production models and streamlining its product offerings. But note that Porsche did not start producing Corollas. What it did was get better at what it was already doing: making high-quality, low-production luxury vehicles.
Any turnaround has to start with the assets the company has, and build on them. Otherwise, why go into a turnaround? Just start a new company, where you won't have to hassle with the old employees, the old ways of doing things, and the old brand associations. A turnaround doesn't have to keep all of that, by any means -- many turnarounds sadly start with mass firings. But there needs to be something that you want to grow, even as you trim away the deadwood and the choking vines.
Hughes seems to have understood this, at first; his early moves were toward a bigger, better version of what The New Republic had been able to put out as its subscribers declined. But at some point -- one can only imagine it was when he realized that little political magazines don't make money -- he seems to have decided that he'd rather be running a startup, where there might be more scope for action and profits.
That was disastrous. In short order, most of the magazine's writers had fled, badly denting the brand -- and then, inexplicably, the new staffers took a hammer to what was left with a cover story on how racist the old magazine had been.
Having transformed the magazine into the startup he wanted, he then abruptly decided that someone else would need to run it. Needless to say, most startups do not survive the departure of their founders barely a year after inception.
I certainly hope that Hughes finds a buyer; a venerable magazine, and its writers, deserve rescue. But no aspiring mogul now has the opportunity to buy what he bought four years ago. He will be passing on the bruised husk of an old brand, with a shaky new startup inside.
To contact the editor responsible for this story:
Philip Gray at philipgray@bloomberg.net
Before it's here, it's on the Bloomberg Terminal.
LEARN MORE