Labor
Not a Great December for Retail Hiring
Millions of workers, no growth.
by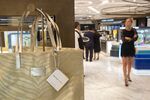 December was a big month for job gains, but not in the quintessential December job category, retail. Retailers added just 4,300 jobs on a seasonally adjusted basis. If it hadn't been for auto dealers, which added 7,900 jobs, retailing employment would have been down for the month. Employment at clothing stores declined by 17,500, while at department stores it fell by 5,800.
Now, those numbers are all adjusted for seasonal factors, and the seasonal adjustments are pretty big in December. In raw, unadjusted numbers retailing actually added 145,700 jobs for the month. If you just look at Decembers, in fact, retailers have added almost 1.5 million jobs during this recovery. Then again, retail employment in December 2015 was only a little higher than in December 2000.

Over the longer run, retailing's share of employment has been declining since the 1980s.

Retail workers' hourly pay has been in an even more precipitous slide relative to other private-sector jobs -- although the decline appears to have at least paused.

Overall, the picture is of a huge category of work, one that is a key source of jobs for Americans without extensive qualifications -- 54.9 percent of cashiers, for example, have a high school degree or less -- that's in steady decline. Retail isn't going away, but the parts of it that are growing (auto dealers and their current boom excepted) tend to require fewer workers to generate the same amount of sales. For example, warehouse clubs such as Costco and nonstore retailers such as Amazon.
Warehouse clubs and supercenters are now among the biggest retail employers. Only auto dealers and food and beverage stores employ more people (I left them off the chart because they aren't really competitors to the sectors above). As University of Chicago economists Ali Hortacsu and Chad Syverson wrote in a Journal of Economic Perspectives article to which I devoted a recent column, the rise of the warehouse clubs and supercenters has been the biggest and most disruptive phenomenon in retailing during the past 20 years.
QuickTake Monthly U.S. Jobs Report
What about online retail? Well, as a direct provider of employment it just isn't that big -- Amazon and the many vendors that use its platform are all in that nonstore-retailer category near the bottom of the chart. That doesn't include the FedEx, UPS and U.S. Postal Service workers delivering all that merchandise that was ordered online, of course. And online clearly has been putting pressure on employment and wages at other retailers. One has to imagine that will only increase.
This column does not necessarily reflect the opinion of the editorial board or Bloomberg LP and its owners.