view
North Korea Wrecks Obama's Nuclear Dream
In 2009 he called for "a world without nuclear weapons." That hasn't quite panned out.
by and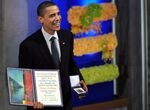 Wednesday's North Korean nuclear test was a harsh reminder that President Barack Obama's drive to achieve a world without nuclear weapons is still very much a dream.
Even as Iran begins implementing its side of a deal to reduce nuclear stockpiles, disconnect existing centrifuges and provide more transparency of its research, many of Obama's nuclear nonproliferation goals have been scrapped. His arms control agenda with Russia has stalled. The nuclear nonproliferation treaty remains in perilous shape. And North Korea is amassing a nuclear stockpile that could one day rival that of major nuclear powers.
From Obama's perspective, things were not supposed to turn out this way. On April 5, 2009, from Prague, the new president declared: "Today, I state clearly and with conviction America's commitment to seek the peace and security of a world without nuclear weapons." He acknowledged that this goal would take time and persistence, but said, "we must ignore the voices who tell us that the world cannot change. We have to insist, 'Yes, we can.' "
Seven years later, his record in implementing that vision is mixed at best. Obama in his speech for example pledged to push Congress to ratify the Comprehensive Test Ban Treaty. The Senate, which narrowly rejected the pact in 1999, has yet to take the vote. Secretary of State John Kerry is working behind the scenes to convince lawmakers to ratify the treaty this year, but he's unlikely to succeed in a Republican-held Senate.
The administration dedicated tremendous resources to negotiating and securing ratification of the New Start treaty with Russia in 2010. He succeeded, and the two nations agreed to reduce their deployed stockpiles of strategic nuclear weapons. But the drive to negotiate a follow-on treaty went nowhere. Then, Russia pulled out of the Nunn-Lugar cooperative threat reduction initiative, which was meant to secure ex-Soviet nuclear stockpiles.
Obama said he would pursue a new treaty to cut off the production of fissile materials, but no such treaty has materialized. While the U.S. in 2010 managed to produce a consensus set of recommendations for the Nuclear Nonproliferation Treaty, it failed to produce such a document in 2015 after Egypt and other states demanded a conference aimed at forcing Israel to acknowledge its own nuclear weapons.
And while Obama beat the odds to forge the deal with Iran to reduce its nuclear stockpiles, other countries in the Middle East such as Saudi Arabia have threatened to begin nuclear programs after the U.S. and other great powers recognized Iran's right to make nuclear fuel. What's more, that nuclear agreement allowed Iran to keep much of the infrastructure Obama had until 2013 insisted that the Tehran government dismantle. The limits on Iran's centrifuges and stockpiles also expire at points in the next 10 to 20 years.
The greatest setback to Obama's agenda, however, has been North Korea. According to the Institute for Science and International Security, Pyongyang now has enough nuclear material to build nine bombs, and could have enough for 79 weapons by 2020. This week's test was North Korea's fourth since 2006, and the regime is concurrently working to improve the delivery systems and miniaturization of warheads. So far, the Obama administration has no strategy with a chance of stopping this progress, which undercuts the entire push for a nuclear-weapon-free world.
"You can't say we are not really going to eliminate Iran as a nuclear weapons state and not do much about North Korea and then turn to France, China and Russia and say we are going to get rid of nuclear weapons," the institute's president, David Albright, told us. "They never confronted sufficiently the proliferation threat, they certainly could not convince weapons states to give up nuclear weapons."
The last real engagement between the Obama administration and the North Korean leadership was in 2012, when the U.S. negotiated a moratorium on nuclear and missile testing in exchange for food aid. But the regime broke its promises under the agreement just weeks later, and diplomacy mostly ended.
Most North Korea experts believe the administration concluded that Kim Jong Un was wasn't interested in negotiations and decided to pursue a policy that Secretary of State Hillary Clinton called "strategic patience," which is based on shoring up relationships with allies Japan and South Korea while waiting for North Korea to come back to the table.
"The fact is, the administration has left North Korea very low on its list of things to do, and the only time it really gets much attention is when the North Koreans conduct a test and that is of course a big mistake," said Joel Wit, the founder of the North Korea-focused website 38 North and a former nuclear negotiator. "There's no real strategy. The sanctions are weak, we have no dialogue with the North. They know there's no strategy and this have given them a lot of running room."
North Korea is particularly troublesome for Obama's nonproliferation agenda because it has a track record of exporting nuclear technology, including to Syria. There are also reports of nuclear cooperation between Pyongyang and Tehran, raising the risk that the president's achievement in limiting Iran's nuclear program could be undermined by a growing program in North Korea.
Obama's defenders argue that progress has been made in the last seven years. "Since April 2009, a great deal has been accomplished in some areas and clearly not enough in others," Daryl Kimball, the executive director of the Arms Control Association, told us. But Kimball also acknowledged that the failure to contain North Korea's nuclear program counted as a failure in this agenda.
Kimball gave high marks to Obama's policy to host nuclear security summits with heads of state, making the issue a much higher priority than it has been for other presidents. These meetings have had success in securing stockpiles of highly enriched uranium needed to make weapons and fuel at sites in Russia and the U.S. In March, dozens of heads of state will come back to Washington for his administration's last summit.
That meeting may give the Obama administration a chance to highlight progress on its nonproliferation agenda. But North Korea stands out as a glaring failure and a reminder that nuclear zero is a very long way off.
To contact the authors of this story:
Eli Lake at elake1@bloomberg.net
Josh Rogin at joshrogin@bloomberg.net
To contact the editor responsible for this story:
Tobin Harshaw at tharshaw@bloomberg.net
Before it's here, it's on the Bloomberg Terminal.
LEARN MORE