Ukraine Crisis
Coca-Cola Put Crimea on the Map, Then Took It Off
Consumer multinationals are navigating a political minefield in Russia and Ukraine.
by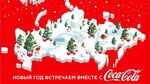 It's tough these days to be a multinational consumer goods company doing business in both Ukraine and Russia. Coca-Cola felt it over the New Year's holidays: Because of a marketing agency's indiscretion, it is now forced to wiggle out of answering whether it considers Crimea to be Russian or Ukrainian.
On Dec. 30, a seemingly routine post was published on Coca-Cola's official pages on the social network Vkontakte, which is more popular in Russia than Facebook. It contained a Christmas card featuring a map of Russia:

At a casual glance, there's nothing noteworthy about it. To a Russian patriot, it's highly offensive. The map doesn't show the Kaliningrad region, Russia's exclave that used to be East Prussia, once part of Germany; the Kuril Islands, seized by the Soviet Union from Japan in 1945 and still contested; or Crimea, annexed by President Vladimir Putin from Ukraine in 2014. On Monday, after numerous comments expressing various degrees of dismay, the community moderator apologized and posted an amended map:

See the two separate bits to the west and southwest of the Russian mainland and the three small ones to the south of the blade-shaped Kamchatka peninsula in the Far East? 
Few people cared about Kaliningrad and the Kurils, but pro-Putin bloggers celebrated the inclusion of Crimea with triumphant posts. "One of the biggest U.S. companies, Coca-Cola, has officially recognized Crimea as Russian," wrote Sergei Kolyasnikov. "It's quite logical that U.S. business is more impartial about geopolitics than the corrupt U.S. officials. A global victory starts with steps such as the recognition of Russia's actions by the biggest U.S. companies."
To Ukrainians, the new map was an affront. Popular legislator Mustafa Nayyem, whose Facebook post two years ago set off Ukraine's "Revolution of Dignity," called for a boycott of all Coca-Cola products: "I suggest that citizens of Ukraine bring Coca-Cola down to earth and refuse to buy the company's products, reminding it that no country in the world, including Coca-Cola's home country, the U.S., recognizes Crimea as Russian territory." Within hours, the Twitter hashtag #BanCocaCola was trending:
The Ukrainian Embassy in Washington was worried, too. It told Coca-Cola that the amended map "violated the official U.S. position" and urged it to "immediately correct the mistake."
The company said it didn't authorize the changes. "The agency that created the map later made changes without our knowledge or approval," Coca-Cola said in a statement. 
That, however, doesn't resolve the company's dilemma. Russia is a big market. Swiss-based Coca-Cola Hellenic Bottling Co., 23.5 percent owned by the U.S. Coca-Cola Co., handles production and distribution for the U.S. brand in Russia. It no longer breaks out results for the country in its financial accounting, but judging by data from 2012, when it still did, Russia contributes about 20 percent of Coca-Cola HBC's annual revenue of as much as $7 billion, and a greater portion of its operating income. Coca-Cola is keen to maintain that revenue stream, which isn't easy given the upsurge of anti-Western sentiment. There are persistent calls in the Russian parliament for bans and restrictions on the company's drinks in response to Western sanctions against Russia. Most recently, legislator Mikhail Yemelyanov called on Dec. 22 for increased taxes on Coca-Cola and its main competitor, Pepsi.
Now Ukrainian nationalists, led by Oleh Tyagnybok, head of the far-right Svoboda party, are calling for a Coke ban in Ukraine. Economically, the poor country is less important to Coca-Cola than Russia, but it's still a market of more than 40 million people, and the political support it gets from the U.S. government makes it particularly tricky for Coca-Cola to ignore the Ukrainian outrage. 
I asked Coca-Cola for its official position on whether Crimea was part of Russia or Ukraine. Here's what company spokeswoman Anne Moore told me:
We, as an international company, do not take political positions unrelated to our business, and we apologize for the controversial post, which we have removed.
In other words, Coca-Cola considers the attribution of Crimea a matter of politics, not fact. It's on shaky ground there, but it can't afford to commit itself. Normally, it shouldn't even be asked to do that: It just sells sugary drinks. In the world of Putin and his passionate friends and enemies, however, everyone, even the soft drink vendor, is either with them or against them.
Coca-Cola isn't the only major consumer goods producer facing this disconnect between its apolitical business and the overpoliticized world in which it operates. Until Tuesday, PepsiCo's Russian site contained a presentation with this map, which also grants ownership of Crimea to Russia:

The map was widely reposted on the social networks and in Ukrainian media, but as of Wednesday, it's no longer available on the site, though the link to its former location is still there. By this uncomplicated maneuver, Pepsi avoided the uncomfortable questions that had made its competitor squirm.
German-based Adidas, for its part, hasn't bothered to amend the store locator on its site, which provides Russian addresses and postcodes for its three Crimea stores.
The multinationals' position may be ambiguous, but Russia is a big country that is still open to them, unlike its predecessor, the Soviet Union. They should probably be thanked for not taking sides in the poisonous propaganda wars Putin's regime has started. These wars will someday be over, but soda and running shoes, hopefully, will still be there.
This column does not necessarily reflect the opinion of the editorial board or Bloomberg LP and its owners.
(
Fixes nationality and location of embassy in seventh paragraph.
)
To contact the author of this story:
Leonid Bershidsky at lbershidsky@bloomberg.net
To contact the editor responsible for this story:
Mark Gilbert at magilbert@bloomberg.net
Before it's here, it's on the Bloomberg Terminal.
LEARN MORE