Editorial Board
India and Pakistan Need to Talk Through Terror
Calling off negotiations now would give militants what they want.
by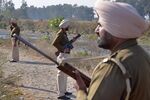 Last weekend's attack by Pakistani militants on an Indian air base should hardly have come as a surprise. From the moment last month when Indian Prime Minister Narendra Modi unexpectedly stopped in Lahore, Pakistan, to meet with his Pakistani counterpart Nawaz Sharif, the only question has been when radicals would try to undermine the budding rapprochement. Incipient pledges of goodwill between Indian and Pakistani leaders have almost always been followed by terrorist attacks. And these, in turn, inevitably spark calls to halt diplomatic progress.
So far, though, Indian officials have wisely held to their pledge not to be provoked by the "saboteurs." Calling off the high-level talks scheduled to begin next week would only give the militants what they want. And while fast-growing India can more easily tolerate the stalemate than Pakistan can, continued tensions on the subcontinent are enormously counterproductive. They drain attention and resources at a time when India is hoping to build its strategic influence in the Indian Ocean and beyond. They exacerbate anti-Muslim prejudices, which have been rising in recent months. And they strain ties with the U.S., which wants an end to the jockeying between the South Asian rivals, not least because it undermines stability in neighboring Afghanistan.
It's equally important to remember that the air base attack, though it killed seven Indian soldiers and six militants, doesn't change the bigger picture. Both Modi and Sharif have always known that the Pakistani army, which has sponsored anti-India militant groups, will be the biggest roadblock to any peace deal. Presumably, however, the generals wouldn't have even let the talks be scheduled unless they were at least curious about where they might lead. While Pakistan should do more to rein in its onetime proxies, India can strengthen its own hand by continuing to engage with Sharif and others who favor improved ties.
That means not just beginning the new round of talks but ensuring that they quickly gain momentum. There's plenty of low-hanging fruit for the two sides to start with: They can increase the number of visas and people-to-people exchanges between the countries, lower remaining trade barriers, improve cross-border logistics and untangle red tape. An agreement to allow transit trade between Afghanistan and India, via Pakistan, would benefit all three countries; expanding bilateral trade -- currently only $3 billion a year -- would foster Indian and Pakistani business lobbies that are more interested in peace than continued conflict. Meanwhile, setting a full schedule of future talks should help quiet both Indian and Pakistani skeptics who fear that their side may give up too much too soon, before intractable issues such as the disputed Kashmir region even reach the table.
Ultimately, Pakistan needs to renounce its ties to terrorist groups, and both India and the U.S. should continue to demand that it do so. In the meantime, India could do much more to strengthen its internal defenses and intelligence-gathering, so that future attacks can be prevented. If talks move forward, many are sure to be attempted.