view
Tiny Bubbles, Tough Decisions
The great stuff is pricey and most of the rest is just blah.
by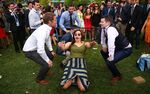 Since writing this account of the sparkling wines I chose for New Year's Eve -- and drinking them -- I have received several requests for a tasting report. It now follows at the end of the column.
Sparkling wine is hard to figure. At least, for me it is. I don't drink it all that often, and when I do, I tend not to be paying close attention. So when I go to buy the stuff I usually find that I'm flying blind, and that the price tags discourage experimentation. I think a lot of people are in this bind. But it's New Year's Eve. Friends are coming over. Sparkling wine must be acquired.
So what to do? I have a bunch of heuristics that I follow when buying still wine, most of which stem from the hypothesis that most wine buyers are unadventurous and gravitate toward familiar brands and familiar grapes. As a result, (1) wines from high-status regions and wineries tend to be overpriced and (2) the best-known grapes (Chardonnay, Cabernet Sauvignon, Pinot Noir) tend to be grown in lots of places where they probably shouldn't be. So, at least if you're in a well-stocked wine shop or a restaurant, you're generally better off with wines from less-famous regions made with less-familiar grapes.
This is partly true for sparkling wine, too. Spanish Cava and Italian Prosecco trade at a discount to higher-status French Champagne. If you're looking for something respectable to serve tonight, those $12.99 bottles of La Marca Prosecco stacked up by the front entrance of your local Target (if you live in a state where grocery stores are allowed to sell wine) are a really solid choice.
At its best, though, the stuff that actually comes from the French region of Champagne really is better than any other sparkling wine. It also tastes markedly different. Here's supertaster Robert M. Parker Jr., writing in the mid-1990s: "Good champagne not only should taste fresh, but should also have flavors akin to buttered wheat toast, ripe apples, and fresh biscuits."
In my (admittedly limited) experience, the name-brand non-vintage French Champagnes (Veuve Clicquot Brut, Moet & Chandon Imperial, etc.) that retail for $40 or $50 a bottle in the U.S. tend to taste mainly just fresh. They're produced in large quantities by blending together wine from different years and lots of different vineyards, and they're fine, but most of them aren't really "good Champagne."
What is reliably good is vintage Champagne, made only when the grapes are suited for it and then aged for several years. I've had Veuve Clicquot's top-of-the-line vintage edition, La Grande Dame, two or three times over the decades, and my memory is that it did indeed taste like buttered wheat toast and was pretty great. But the latest one, from 2006, is $150 a bottle. Other vintage Champagnes with higher name recognition, such as Moet & Chandon's Dom Perignon and Roederer's Cristal, cost even more. That is a lot of money!
I've had the buttered-wheat-toast experience a few other times in France, with much-less-expensive bottles from much-more-obscure producers. As Eric Asimov writes in the New York Times, more and more Champagnes from small French grower-producers are now available here in the U.S. But, as he also writes, selecting among their products is kind of a crapshoot -- and still a pretty expensive one. The bottles he recommends range in price from $44 to $66, and chances are you won't be able to find those particular bottles in a store near you.
Still, this was the route I was going to follow this year. Then I stopped in a wonderful little wine store near my in-laws' house in Reston, Virginia. They didn't have much in the way of obscure French Champagnes, but they did have a Virginia sparkling wine made by two veterans of the Champagne region (one of whom also apparently made this year's Kirkland Champagne for Costco), and a sparkling Zweigelt (a red grape) from Austria. Then my wife visited another store in the area and could not resist buying a bottle of Trump Blanc de Blanc, also from Virginia (Donald Trump bought the former Kluge Estate Winery and Vineyard near Charlottesville in a foreclosure auction in 2011). All were in the $25 to $35 range.

I've had the Trump 2013 Meritage red, and it was pretty good, so I imagine the Blanc de Blanc will be just fine as well. I'm guessing the other two will be even better. Not that I'm expecting any buttered wheat toast flavors. But this should at least be more interesting than Veuve Clicquot Brut.
Tasting notes update: The Trump Blanc de Blanc was the favorite. Going head-to-head with the other Virginia sparkling wine, Thibaut-Janisson Brut, it came across as more refined. "It's drinkable and unoffensive, unlike the man," said one guest. "Donald Trump makes sparkling wine great again," said another (who was exaggerating). The Thibaut-Janisson wasn't bad at all, but the bubbles were bigger and the sweetness more pronounced. Interestingly, Claude Thibaut had a hand in producing both wines -- he started the sparkling wine program at what was then Kluge Estate before striking out to create a wine with his name on it in partnership with Champagne-maker Manuel Janisson. As for the Austrian sparkling red, it was pretty weird. "Vampires would love this, it tastes of fizzy blood," was one verdict. I didn't like it at first, but after a bite of dark chocolate it tasted rich and satisfying. Still, this year I think I'll save up my money for non-mass-produced Champagne.
(
Adds the results of taste-off in final paragraph of article published Dec. 31.
)
To contact the author of this story:
Justin Fox at justinfox@bloomberg.net
To contact the editor responsible for this story:
James Greiff at jgreiff@bloomberg.net
Before it's here, it's on the Bloomberg Terminal.
LEARN MORE