Sports
No Justice, No LeBron?
Asking the Cavs' star to sit out a game over Tamir Rice puts too big a burden on his shoulders.
by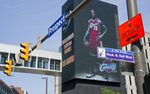 Some activists from Black Lives Matter are urging LeBron James of the Cleveland Cavaliers to sit out games in protest of the decision not to indict the Cleveland police officer who shot and killed 12-year-old Tamir Rice. It's a push born of an understandable sense of frustration. But how effective could it be?