Peyton Manning's Absurd Doping Scandal
Some performance-enhancing drugs could be used to help healing.
by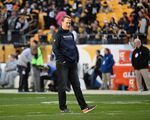 By now, you've probably heard about the Al Jazeera documentary alleging that Peyton Manning, among others, received shipments of human growth hormone, a performance-enhancing drug banned by most leagues, including the NFL. You've also probably heard that the main source has tried to recant his entire statement, which was secretly taped by an undercover athlete. You've heard vehement denials from Manning's camp and attempts by Manning supporters to discredit the news network.