Wall Street
The 'Flash Boys' Exchange Is Still Controversial
Does an exchange have to be fair to high-frequency traders to be fair?
by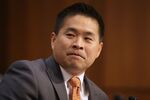 If you are interested in market structure and high-frequency trading, you might want to go have a look at the comments that the Securities and Exchange Commission has received on IEX's application to become a public stock exchange. Many of them provide illuminating discussions of contested questions of market structure. Many, though, don't. Instead, they provide a sort of illuminating meta-discussion of market structure; they give you a sense of what we talk about when we talk about market structure. It's not market structure! It's this:
What could possibly be the objection to competition? That is all it is. IEX is a place of business that will offer me, the investor, a choice.

Why is Ameritrade paid for their quote stream? We know the answer.

The IEX will provide transparency for all.
Or this:
IEX is a force for good in the finance industry, please support it and do not try to bar it from operating. Investors have been fleeced for too long through dark pools and payment for order flow.

thanks
(Keep in mind that IEX, right now, is a dark pool.) My favorite 1 might be this one:
Thanks for reading my comments. I would not want to repeat what has been said so accurately by Mr. Hunsader (founder of nanex llc), Joe Saluzzi of themis trading, and Michael Lewis despite being a well know novelist have been unquestionably and verifiably correct on the damage high frequency trading. High-frequency trading or high-frequency traders as defined under the context that they have a significant speed advantage and have a direct feed to the exchanges while all the other consolidated feeds and subscribers of those consolidated feeds actually fall behind. We not only we not only urge  you but also bestow upon you the duty to do The right thing of approving an exchange that will actually help investors and the US economy as a whole by leveling the playing field. Not so surprisingly citadel and other prominent HFT have commented up to multiple times against allowing IEX to be an exchange. Now their choice being against IEX is also their right, but they're right should not deter the average investors from actually getting a good fill, and freedom from being prayed upon by predatory high-frequency trading practices.

Please do think about the investors who are
It ends there. Perhaps it is a sort of concrete poetry meant to suggest that investors are getting front-run so cruelly that they can't even finish their sentences? 
Anyway, you get the idea. A lot of people really like IEX! Even if they don't, strictly speaking, know what it is! It has really good marketing! There is a book -- my Bloomberg View colleague Michael Lewis's "Flash Boys," which is not a novel 2 -- and the IEX people are charming,  and their pitch is that they want to make the world fairer for investors. So investors who feel like the world isn't fair for them -- because of Ameritrade or dark pools or payment for order flow or direct feeds or whatever else -- identify emotionally with IEX. Surely the SEC should approve their application to be an exchange, because then things will be fairer. But it hasn't yet, and IEX just gave the SEC another three months to think about it. Here is Gretchen Morgenson:
Scores of investors, in a fistful of comments, have told the Securities and Exchange Commission that they want to be able to trade stocks on a more level playing field. So why hasn't the commission, known as the Investor Advocate, given the green light to an operation that would enable it?
Of course, if the SEC were judging IEX's application strictly on its marketing pitch, on its emotional resonance, it would approve the application in a heartbeat. The SEC commissioners would travel to New York to carry IEX's co-founder Brad Katsuyama around on their shoulders, shouting "huzzah."
But the poor SEC actually has to read all the comment letters and think, not about whether Fairness Is Good, but about whether IEX's application to be an exchange is legal and will improve markets. And it turns out that, despite the glowing comments above, some people do have objections to IEX's application. Morgenson insinuates that "established exchanges aren't keen on the IEX application" because it represents unwanted competition for them, but you can actually go read their comments, and IEX's responses. 3 And if you do, a real and interesting controversy emerges.
The basic pitch of IEX is that big institutional investors can use it to trade stocks safely, without being preyed upon by high-frequency traders. IEX does some things to protect this safety -- it doesn't use maker/taker pricing, doesn't offer faster access to high-frequency traders, etc. -- but the most famous, and the one that is at issue in its application, is IEX's "POP," or "speed bump," or "magic shoebox." This is a coil of wires in a box that delays every trader's communications with IEX by 350 microseconds. If you submit an order to IEX, IEX will wait 350 microseconds to post or execute it, and when IEX executes a trade, it will wait 350 microseconds to tell the parties that their trade executed. 
It's important to realize that slowing everyone down by 350 microseconds can't possibly help anyone. As Hudson River Trading said in its comment letter: "Similar to a 100-meter sprint, if you simply add 350 microseconds to each participant's time, neither the order in which they finish nor their time differentials will change." So for normal market and limit orders on IEX -- in its current incarnation as a dark pool, or its possible future incarnation as an exchange -- the delay is pretty much an irrelevancy. If there is stock available for $10.00 on IEX, and Big Nice Institution wants to buy it, and Evil HFT wants to buy it, then whichever submits its order to IEX first will end up buying it. They'll both be delayed by 350 microseconds, but that doesn't change the result. And since Evil HFT is faster, it will beat Big Nice Institution to the shares. 
So how can the magic shoebox ever help? The trick is that some actions on IEX are not subject to the 350-microsecond delay. The idea is that sometimes IEX will, on behalf of its institutional-investor customers, cut ahead of the line, because the line is full of predatory high-frequency traders. That's the whole controversy. IEX thinks that the high-frequency traders are unfair and predatory, and so it is protecting its customers by cutting those HFTs out of the loop in a few cases where otherwise the HFTs might do predatory things. The high-frequency traders, on the other hand, think that they're not especially predatory, and that letting anyone cut ahead of them in line is unfair. 4 The question for the SEC is, roughly speaking, does fairness require being fair to high-frequency traders (who lots of people think are themselves unfair)? 
If you stop reading now -- and you probably should! -- you will have a decent sense of the philosophical issues at issue in IEX's exchange application, which are not quite Fairness vs. Unfairness but rather What Does Fairness Even Mean? For the rest of you, let's talk in more detail about the market-structure issues, though I warn you that things are about to get significantly more market structure-y in here.
So two specific actions at IEX are not subject to the 350-microsecond magic shoebox delay. The first is updating of pegged orders. The idea of a pegged order is that Big Nice Institution submits a hidden order to buy stock at the midpoint of the national best bid and offer. So if stock is trading at $10.00 bid, $10.01 offered, Big Nice Institution will submit a pegged order to IEX to buy at the midpoint ($10.005). If someone comes to IEX with a market sell order (i.e., willing to sell at $10.00), Big Nice Institution will buy its shares at $10.005, saving itself half the spread versus if it had used a market order itself. 5 This order type exists on other exchanges too, and it is popular on dark pools, which are to some extent built around the intuition that big nice institutions should be able to trade with each other secretly at the midpoint between the bid and the offer.
But there is a problem with pegged orders. Let's say that the best bid for a stock is $10.00 for 500 shares on the New York Stock Exchange (and there are no other $10.00 bids anywhere), and a trader goes to NYSE and tries to sell 1,000 shares at $10.00. That trader takes out all the $10.00 bids, leaving the national best bid at $9.99; it also leaves a 500-share offer on the NYSE book, improving the national best offer to $10.00. Now the midpoint is $9.995. But it takes a bit of time for other exchanges, and other dark pools, to figure this out: NYSE's execution isn't communicated to them instantaneously. In fact, generally speaking, electronic traders can learn about this price change before other exchanges and dark pools do, because they often have faster access to execution information, and more generally because their technology tends to be speedier. So if Evil HFT knows that the national best bid and offer are $9.99 at $10.00, and it knows that, for the tiniest fraction of a second, it can go to IEX and sell at $10.005 -- because IEX hasn't updated its midpoint peg orders yet -- then that is (a tiny bit of) free money for Evil HFT.
So IEX's pegged-order logic cuts ahead of its magic shoebox to update those pegged orders. In the previous example, Big Nice Institution has a midpoint peg order to buy at $10.005, based on a $10.00 / $10.01 national best bid and offer. Then the national best bid and offer change to $9.99 / $10.00. Evil HFT sees this and rushes to sell all the stock it can at $10.005 against pegged buy orders on other exchanges and dark pools. But it is stymied at IEX: Its sell order is delayed by 350 microseconds, while IEX itself skips the magic shoebox and immediately updates its pegged orders to reflect the new national best bid and offer. So Big Nice Institution can't be picked off by Evil HFT on its pegged order.
IEX also cuts ahead of its magic shoebox for routable orders. The idea of a routable order is, let's say that there are 10,000 shares of stock for sale at $10.01, of which 2,000 are available on IEX and 8,000 are available elsewhere. Big Nice Institution sends an order to IEX to buy 10,000 shares, and lets IEX route it: IEX is in charge of getting, not just the shares available on its own platform, but as many shares as it can get. So IEX executes 2,000 shares on its own exchange. It turns out, though, that the seller of those 2,000 shares was Evil HFT. Not only that, but Evil HFT is the one offering those 8,000 shares of stock at $10.01 elsewhere. IEX tells Big Nice Institution and Evil HFT that their trade for 2,000 shares has executed. "Aha!" thinks Evil HFT, "I know there's a big buyer of stock, since I just sold 2,000 shares all at once. I'll move up all my prices elsewhere, to make that big buyer pay more for the stock." And so Evil HFT cancels all of its $10.01 offers on other exchanges, and replaces them with offers at $10.02. And since Evil HFT is faster than IEX's router, it can cancel and re-submit those orders before IEX's router even gets to the other exchanges with Big Nice Institution's order. And so now Big Nice Institution can only get 2,000 shares at the posted price of $10.01; the other 8,000 shares come at $10.02 or worse. 
Or that's how it would work, except that IEX lets its router cut the line here too. So when it executes those 2,000 shares, the magic shoebox delays its notification to Evil HFT (and Big Nice Institution). But IEX's own router gets the order to buy 8,000 more shares immediately, and has a 350-microsecond head start on Evil HFT when it runs ahead to the other exchanges. So it can beat Evil HFT there, and buy stock at $10.01 before Evil HFT can cancel and re-submit its orders. As IEX puts it, the idea is "to prevent 'information leakage' or 'liquidity fade' when IEXS routes to other markets."
I have tried, in the previous five paragraphs, to describe IEX's proposal in terms that are pretty favorable to it. Sure I used the phrase "cut the line," which has some negative connotations, and is perhaps unfair; it is not a priori obvious that IEX's pegged orders or routable orders should have to go through the magic shoebox again. (Those orders, after all, went through the magic shoebox once when they first came to IEX, so why should they have to go through again to update the peg or to route away?) In any case, even if IEX is cutting the line, it is only doing so to help out big nice institutions at the expense of evil high-frequency traders.
But there are objections. One objection is just that it is always unfair for public stock exchanges to delay quotes. A public stock exchange's quotes are "protected," meaning that if IEX has the best price then brokers have to trade with it before going elsewhere. But if IEX's quotations are always intentionally 350 microseconds out of date, then that will mess up market transparency and price discovery, because you will be forced to trade with IEX quotes even if you don't know that they're real. This objection has a certain power. For one thing, the SEC's rules seem to say that a protected quotation can't have intentional delays; as Citadel said in its second comment letter, "IEX simply cannot hide from the letter of the law." For another thing, this objection is obviously right for some length of delay: Of course brokers shouldn't be forced to send orders to an exchange whose quotations are 20 minutes out of date. But in the actual world, with a 350 microsecond delay, this objection is mostly silly; we have talked about it before, and let's not talk about it again, except maybe in a footnote. 6
There are more interesting objections, though. 7  A minor but intriguing one has to do with the interaction of IEX routable orders and pegged orders on other exchanges. It goes like this. Let's say the national best bid and offer are $10.00 / $10.01, the $10.00 bids are all at IEX, and Other Friendly Institution has a midpoint pegged buy order on the New York Stock Exchange. Big Nice Institution sends a routable sell order to IEX, taking out all of the $10.00 bids. Now the national best bid and offer are $9.99 / $10.01, making the midpoint $10.00. But IEX's router sends Big Nice Institution's order to NYSE before NYSE knows to update the price, so that order executes at $10.005 (the stale midpoint) instead of $10.00 (the current midpoint). IEX has helped Big Nice Institution pick off Other Friendly Institution's midpoint peg order on NYSE. Big Nice Institution, abetted by IEX, is doing exactly what Evil HFT was doing back in the first example about pegged orders: It's trading against pegged orders on other exchanges at stale prices.
That example is cribbed from a comment letter by BATS, a competing exchange, which adds 8 :
The above example reflects the same type of latency arbitrage IEX complains about. As currently architected, in addition to discriminating against other broker-dealers that must wait to receive an execution message through the POP before routing to other trading venues, IEX is disadvantaging the same orders on other venues that it seeks to protect on IEX.
That is a bit of an exaggeration. If IEX didn't have the magic shoebox, its router and the high-frequency traders and NYSE and Other Friendly Institution would all be in a race to get to NYSE's pegged orders first, and probably NYSE and Other Friendly Institution wouldn't win, so the result would be about the same: Other Friendly Institution's pegged order would still be picked off. So this is not a problem that is unique to IEX. And I don't really know how IEX could fix this; just requiring IEX's router to go through the shoebox probably wouldn't work. 9 Nor do I think that this is likely to be a huge or frequent problem.
Still it is awkward that IEX might find itself in the position of using latency arbitrage to pick off passive institutional investors at other exchanges. Not only because that is a little gross, and not only because that's what the magic shoebox is designed to prevent on IEX, but also because it raises the specter of other exchanges introducing their own delays to protect themselves against IEX. The worrying prospect is that an IEX as an exchange might increase market complexity, rather than decreasing it, as high-frequency traders and other exchanges adopt new rules and new advantages to counteract the advantages that IEX gives its own router. 10
Another objection -- in some ways the main objection 11 -- is just, like, go read the two paragraphs about routable orders again, except take out the word "Evil" in the name "Evil HFT." Because if you are a high-frequency trader, you don't think that updating your orders to reflect trading activity is evil, or "predatory," or "phantom liquidity," or whatever other bad thing IEX thinks it is. You think that it is traditional market-making and prudent risk management. We've talked before about why high-frequency traders cancel so many orders. One view is that they are just spoofing and manipulating and front-running and so forth, offering phantom liquidity to trick institutions into trading with them. But another, quite standard and orthodox view is that they are basically functioning as market makers, and the way you make markets is by responding to trading information. So if you sell 2,000 shares at $10.01, then you should raise your prices so that you sell the next 2,000 shares at $10.02, and you should try to do that as quickly as possible so you don't sell more shares at $10.01, because $10.01 is now the "wrong" price. If you keep selling shares at $10.01, you are selling them too cheaply.
In other words, the objection goes, IEX uses the magic shoebox (and its router's ability to skip the shoebox) to do "latency arbitrage" and trade with stale quotes on other exchanges before traders on those exchanges can update their quotes, just like it accuses high-frequency traders of doing to its own investors. And, the objection goes, if it's unfair for high-frequency traders to do this to IEX's customers, then it's just as unfair for IEX's customers to do it to high-frequency traders.
This is a core conflict in market structure. Big institutional investors -- many of whom back IEX's application -- want to be able to buy lots of shares without moving the price. (They want to "pick off" electronic traders, the electronic traders would say.) Electronic market makers want to be able to change their prices in response to new information, where "new information" means in particular "big institutions buying lots of shares." (They want to "front run" the institutions, the institutions would say.) People get absolutely blue in the face about the moral dimensions of this conflict, but of course there are none. Investment managers want what's better for them, and electronic traders want what's better for them, and morality has nothing to do with it. 
Economics has something to do with it, although the economics are hotly disputed and not as simple as evil high-frequency traders front-running real investors and stealing money from them. By being able to update their prices quickly, electronic traders might be able to offer tighter markets 12 -- making it cheaper to trade small amounts of stock -- and to make prices more accurate and efficient. 13  You might disagree, and think that the benefits they offer are illusory or at least small relative to their disadvantages. But the SEC seems to think that the current market structure, with markets largely made by electronic traders, is mostly good. 
Of course, the SEC can think that, and IEX can think the opposite; there is room for diverse viewpoints in market structure. Like that first commenter said, the point of IEX is to offer investors a choice. IEX, as a dark pool, has arguably set itself up to favor long-term institutional investors at the expense of high-frequency traders. The concern about its application to be an exchange is, while it is fine for a dark pool to do that, an exchange isn't supposed to favor either side. A public exchange has certain regulatory advantages -- mainly, that brokers are sometimes required to route to it -- and so has to be equally open to institutions and brokers and electronic traders and anyone else who wants to trade. 
One response to that objection would be that most exchanges right now are set up to favor high-frequency traders over "real" investors, and that IEX is just restoring a bit of balance. That seems to be mostly IEX's view, and has an obvious appeal: If every other exchange offers high-frequency traders faster access to its data, why shouldn't IEX be allowed to offer them, in effect, slower access? Why shouldn't it be allowed to briefly hide information to prevent "leakage" or "latency arbitrage" or other stuff that it (and its customers) thinks is harmful to real investors? Another response would be that favoring "real," long-term investors over high-frequency traders is good, because high-frequency traders are parasites, and so IEX's efforts to protect institutional investors ought to be allowed even if they do look a bit unfair to electronic traders. This is obviously a popular view, judging by the comment letters, but I am not sure that it's the SEC's view. 
I suspect that the SEC is not itself sure what its view is, which might be why it needs the extra three months. 14 This stuff is complicated on a nitty market-structure level: What unintended consequences and weird arbitrages might come from allowing IEX's application? But it is also complicated on a broader philosophical level: What does it mean for an exchange, or a market structure, to be fair? And how fair, and to whom, does an exchange have to be to get the SEC's blessing?
This column does not necessarily reflect the opinion of the editorial board or Bloomberg LP and its owners.
To contact the author of this story:
Matt Levine at mlevine51@bloomberg.net
To contact the editor responsible for this story:
Zara Kessler at zkessler@bloomberg.net
Before it's here, it's on the Bloomberg Terminal.
LEARN MORE