Latin America
Brazil Gives Up on Fake Austerity
The new finance minister faces all the same challenges, and must reassure investors.
by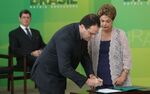 There was no parting speech, no slamming of palace doors. When it finally happened late last Friday, Joaquim Levy's exit as Brazil's finance minister was a study in anticlimax. For months, the corridor talk in Brasilia and the news media had focused on when, not if, the country's top economist would step down.
On Monday, Levy -- who took office this past January -- formally handed over the job to Nelson Barbosa, who as planning minister had long sandbagged the finance chief's efforts to institute austerity. But Levy's position had become precarious since August, when President Dilma Rousseff went over his head to send congress the 2016 budget with a gaping $8.1 billion shortfall.
Defending new tax revenues for a government known for fiscal abandon, preaching parsimony to legislators accustomed to pork, talking structural reforms to a political class obsessed with its own survival: With each battle, Levy lost a little more of the policy high ground, and Brazil, a little more of its international standing.
QuickTake Brazil's Highs and Lows
What can Barbosa achieve that Levy could not? He takes over as Latin America's biggest economy is caught in its worst recession in a quarter-century. At its current pace, Brazil is looking at another lost decade, with gross domestic product per capita in 2018 projected to be 5 percent smaller than in 2010, economist Armando Castelar Pinheiro of the Getulio Vargas Foundation told me.
Barbosa brings one big advantage to the job: ideological affinity. A conservative, University of Chicago-trained economist, Levy was always an odd fit in Rousseff's cabinet, where easy money and consumer stimulus trumped restraint.
Though no populist, Barbosa hails from the academic soft left -- he earned a Ph.D. from the New School for Social Research -- and pleased the leftist Workers' Party by playing the budget dove to Levy's fiscal hawk. Barbosa, even from his lower rung in the bureaucracy, managed to parlay proximity into policy wins at nearly every cabinet clash.
Judging by the pounding Brazil's currency and stocks took Monday, winning over investors will prove much harder. To his credit, Barbosa quickly promised to strive for fiscal balance and eliminate accounting tricks such as forcing government-owned banks to cover budget shortfalls. A federal accounting tribunal ruled this year that such sleights of hand violated Brazil's Fiscal Responsibility Law, leading opposing lawmakers to call for Rousseff's impeachment.
Barbosa also vowed to embrace forgotten structural reforms, such as fixing Brazil's cockeyed pension system, which robs the young to allow men and women to retire at the average ages of 54 and 52, respectively. Because preserving those generous pensions remains a priority of the Brazilian left that hectored Levy out the door, this will be no easy trick.
Fighting impeachment in congress, and with her core political allies caught up in the widening probe into corruption at state oil company Petrobras, Rousseff has turned to her traditional allies on the political left. But since loyalty in Brasilia usually comes at a price, that strategy bodes ill for restoring solvency, according to Christopher Garman, a Latin America analyst at the Eurasia Group.
The stakes are rising. Standard & Poor's and Fitch Ratings have already reduced Brazil's debt to junk status, driving up the country's borrowing costs in the teeth of a recession. All the better for Brazil's regional neighbors, such as Mexico and Argentina, where political renewal and the end of nationalist ring-fencing are turning investors' heads.
Not long ago, Brazil was the best bet in the region. It boasted a growing economy that lifted the poor and sopped up foreign capital. When fortunes turned, instead of looking to reforms, Brazilian authorities answered with a kind of political shell game: Levy was dispatched abroad as the superminister who might save Brazil's failing economy, even as free-spending palace rivals at home pushed to save Brazil from Levy.
As a result, in less than a year, Levy went from paladin of economic probity to enabler of a government with a bad habit. Now Barbosa must be both Levy and his foil, convincing investors he is serious about reining in spending while also promising crisis-battered Brazilians that they won't pay the price. Who will he betray?
To contact the author of this story:
Mac Margolis at mmargolis14@bloomberg.net
To contact the editor responsible for this story:
Brooke Sample at bsample1@bloomberg.net
Before it's here, it's on the Bloomberg Terminal.
LEARN MORE