view
Books That Don't Feel Like Homework
A collection of aphorisms. A glimpse inside the real "Little House" lifestyle. A guide to language invention.
by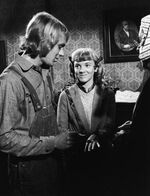 To judge from the typical end-of-year book lists, we policy journalists are pretty weighty folks. Not for us are your bodice rippers, your light space opera or your "10 Steps to a Slimmer You in 2015." When we are not opining on the topics of the day, we are pondering race relations, inequality, ancient philosophy, the history of the Silk Road or the nature of space/time.
I'm not saying I never do these things. But I also have other literary pleasures, the items that are probably never going to show up in a column, or even my cocktail party conversation. Permit me to recommend three from this year to grace the space under the tree:
"Everything" by Aaron Haspel. I should disclose that back when bloggers were a tiny, beleaguered tribe who all knew one another, I used to play poker with Aaron Haspel. He is the sort of man who will make you raise before the flop, which is to say, the sort of charmingly gimlet-eyed curmudgeon you want producing your aphorisms. And here he has, hundreds of them. They are delightfully witty, painfully true, and thoroughly enjoyable reading.
The best thing about this sort of book is that you can dip into it at will; you don't need to feel guilty about leaving it by the bedside and coming back to it periodically. But come back you will, because there's a gem on every page.
"Pioneer Girl" by Laura Ingalls Wilder. Before there were the Little House books, there was this autobiography -- aimed at adults, raw and unpolished, quite different from the family-friendly story we got, though all the same bones are there. Pamela Smith Hill has taken the original and annotated it with biographical notes and pictures to flesh out the tale of the real "little houses" in which the Ingalls family lived. That tale is somewhat harsher than the stories we all grew up with, but no less compelling, and if you know someone who loved those books passionately, there's no question they'll enjoy spending hours poring over this treasure. Part biography and part history, it's a must-own for her fans.
"The Art of Language Invention" by David Peterson. Conlanging -- the invention of new languages -- is a strange hobby. It is also a fascinating one. Peterson's book is part linguistics text, part technical account of the languages he's worked on (such as those featured in "Game of Thrones"). It's not exactly light reading if you're not familiar with linguistics; I spent a lot of time going back to refresh my memory of technical terms and sounds. And you will not emerge from this book being able to construct your own language, without a great deal of additional study. But if you're anything like me, you will be absolutely fascinated.
Peterson writes with great charm and personality, and you will come out with a greater understanding of how languages work, how they change, and what it takes to construct one. It's the sort of book I expect to read again several times, and I expect to learn something new each time.
So there you are: my three must-own non-policy books for the holiday season. May they make your days, or those of your giftee, merry and bright.
To contact the editor responsible for this story:
Philip Gray at philipgray@bloomberg.net
Before it's here, it's on the Bloomberg Terminal.
LEARN MORE