view
More Reasons the U.S. Should Investigate Soccer
Major U.S. media companies are caught in the web of corruption.
by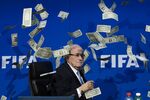 The joint investigation by the U.S. and Switzerland into corruption at soccer's global federation, FIFA, has opened up an inquiry of two American institutions: banking and media.
Since May, when both countries' justice departments conducted their first wave of arrests of FIFA officials, many have questioned why the U.S. would target a sport in which it has a comparatively weak reputation and public interest. Some soccer officials from developing nations have even likened the investigators to "imperialists."
But the Justice Department's focus from the beginning has been on American FIFA officials involved in the alleged bribery scheme, such as Chuck Blazer, the former president of the North American soccer federation, and on the American companies that are suspected of facilitating these transactions. Earlier this month, another raid in Zurich, where FIFA is based, resulted in the arrests of 16 more people and the unsealing of a superseding indictment announcing the guilty pleas of eight defendants, including Alejandro Burzaco, the former chairman of the Argentine sports-marketing firm Torneos y Competencias.
Starting in 1999, T&T Sports Marketing Ltd, a joint venture between Torneos and the Brazilian sports media company Traffic, had acquired the exclusive broadcasting rights to three major Latin American club tournaments -- Copa Libertadores, Copa Sudamericana and Recopa Sudamericana -- allegedly through a series of bribes from Torneos to various high-ranking officials of Conmebol, the South American federation. Burzaco continued the practice when he assumed a minority stake in Torneos in 2005. The indictment states that T&T is part-owned by Torneos, its partners and "a group of investors that included an affiliate of a major broadcasting company headquartered in the United States whose identity is known to the Grand Jury."
Reuters reports that company is 21st Century Fox, which listed T&T as a subsidiary in last year's SEC filing and currently owns 75 percent of its shares. (Reuters also reports that T&T " is registered in the Cayman Islands, does not have a listed telephone number and may not have any employees of its own.") In 2002, Fox partnered with Liberty Media and private-equity firm Hicks, Muse, Tate & Furst to spin-off its Spanish-language sports networks into Fox Pan American Sports LLC. Both Fox's partners had shares in T&T's parent companies, and as a result, Fox acquired the rights to Copa Libertadores and Copa Sudamericana, a deal that was extended to 2018 last month.
In case this web of U.S. media firms isn't complicated enough, satellite-dish provider DirecTV owns 40 percent of Torneos and occupies four of its nine board seats. Torneos also holds the rights to Copa America, and this year, DirecTV Latin America broadcast the tournament in Argentina, Chile and Colombia. DirecTV has also reportedly secured the rights to broadcast next summer's Copa America Centenario, celebrating the tournament's 100th year. Spokesmen for both Fox and DirecTV told the Wall Street Journal back in June that they have no management control over Torneos or T&T.
The indictment also dedicates an entire subsection to the "Centrality of the U.S. Financial System" in the FIFA scandal. Over the past 30 years, the Justice Department says, the accused officials' heavy reliance on American banks and financial institutions "was significant and sustained and was one of the central methods and means through which they promoted and concealed their schemes." This included billions of dollars FIFA wired from Swiss banks to U.S. accounts, the bank accounts maintained by officials receiving bribes and kickbacks, and transactions involving foreign media companies, including Torneos and Traffic, using American banks to conduct their business.
The indictment adds, "the conspirators also relied on the broader strength and stability of the U.S. financial system, including access to the private equity markets."
In the weeks since the indictment was unsealed, U.S. prosecutors have ramped up pressure against American and European banks believed to be involved in the bribery scheme. The Financial Times reports that prosecutors are privately meeting with executives from JPMorgan, Bank of America, Citigroup, Credit Suisse, HSBC, Standard Chartered and UBS. The central issue seems to be whether these institutions failed to comply with their duty to report suspicious transactions -- a failure that has cost banks greatly when they ignore warning signs of criminal activity, particularly JPMorgan's $2.6 billion settlement in the Bernard Madoff case and $926 million settlement in the so-called London Whale incident. Given that precedent, the banks' answer that "some of the people accused in the bribery scheme were some of the most well-respected businessmen in their countries, and did not prompt suspicion" doesn't exactly inspire confidence.
The cooperation of Swiss authorities will be essential in determining the role that notoriously closed-off banking system played in FIFA's corruption and how it relates to American institutions. In June, Swiss Attorney General Michael Lauber stated that "banks in Switzerland did fulfill their duties to file suspicious activity reports," flagging as many as 53 instances of suspected money laundering. UBS is reportedly cooperating with the investigation, and in November, Swiss authorities issued their first order to send information from Swiss bank accounts to U.S. prosecutors. On Thursday, the Swiss Justice Ministry froze accounts containing between $50 million and $100 million at the request of U.S. investigators.
It's looking increasingly like banks around the world didn't do nearly enough to police FIFA. In 2009 and 2012, the Paris-based Financial Action Task Force issued a warning that pointed to soccer as an area ripe for money laundering. The scandal is a major lesson for financial institutions on the need for thorough internal review and reporting. After all, the very stability of the U.S. financial system relied upon by the accused is dependent on the market's legitimacy and ability to weed out fraud. Do we still need to question why the Feds are involved?
To contact the author of this story:
Kavitha A. Davidson at kdavidson19@bloomberg.net
To contact the editor responsible for this story:
Philip Gray at philipgray@bloomberg.net
Before it's here, it's on the Bloomberg Terminal.
LEARN MORE