Turkey Should Make Up With Israel Already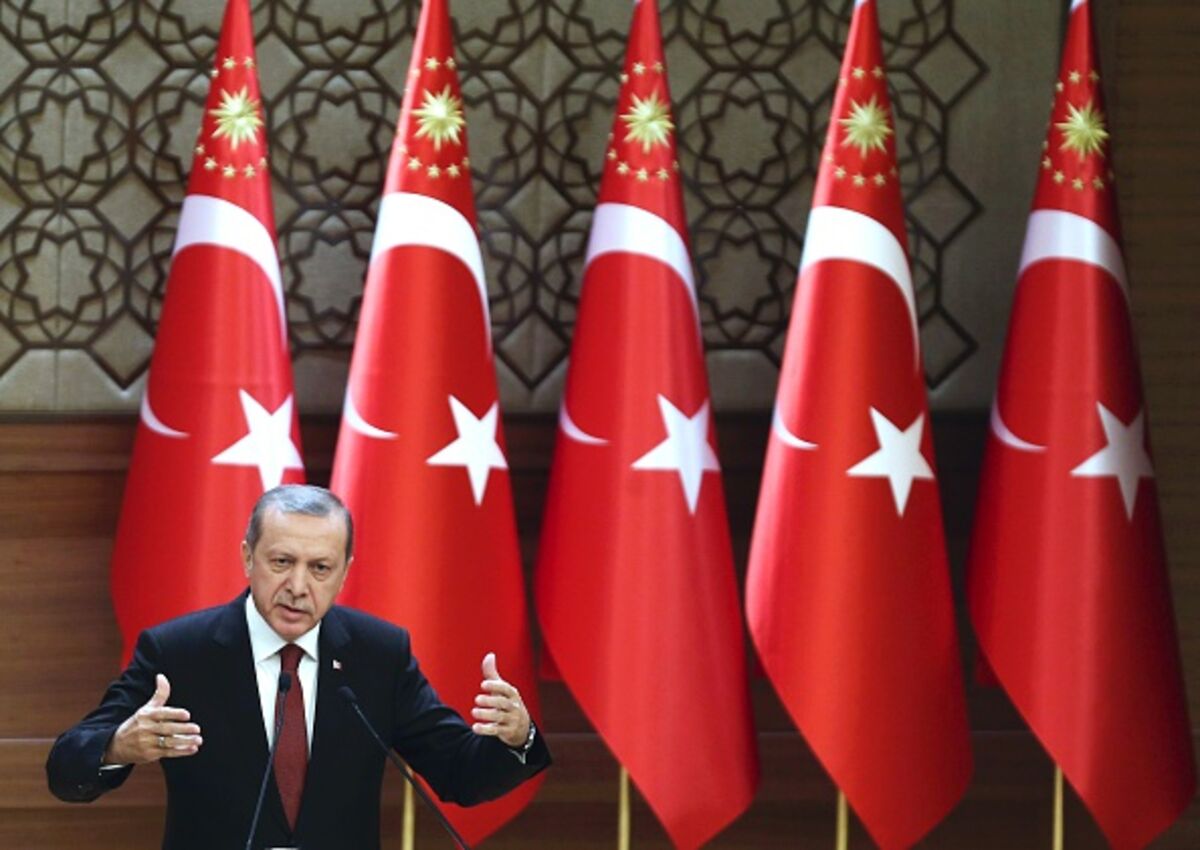 Room for an Israeli flag?
Photographer: ADEM ALTAN/AFP/Getty Images
Turkey's estrangement from Russia seems to have caused President Recep Tayyip Erdogan to revive talks on restoring relations with Israel. Only his demand for an end to the blockade of Gaza stands in the way. It's a demand he should abandon.
Erdogan broke off diplomatic relations when Israeli troops boarded a Turkish ship, the Mavi Marmara, as it sought to breach the Gaza blockade in 2010. Ten people -- nine Turkish citizens and a Turkish-American -- were killed. This week, Erdogan repeated his demand for an end to the blockade. Yet he also said that a rapprochement with Israel would be "beneficial for us, Israel and Palestine" and indeed the entire region. It's hard to argue with that.
When Erdogan came to power more than a decade ago, the two countries had significant military, intelligence and trade ties. The split with Israel began before the Mavi Marmara clash and was part of Erdogan's attempt to find a leadership role for Turkey in a new Middle East, reflecting his brand of Islamism. For anyone trying to win hearts and minds on the Arab street, being friends with Israel was a handicap. But Erdogan's so-called neo-Ottoman policy failed utterly. Turkey now finds itself increasingly alone in a chaotic and hostile region.
After Turkish F-16s shot down a Russian bomber on the border with Syria last month, Turkey needs the support of allies in the North Atlantic Treaty Organization and the European Union as rarely before. Part of repairing those alliances is to reconnect with Israel. In any event, a stable Middle East needs Turkey and Israel to be on good terms.
Israeli officials have leaked the terms of a preliminary deal. It looks sensible. Among other things, Israel would create a $20 million fund to compensate families of the Mavi Marmara victims and Turkey would drop legal cases against the Israeli officers involved. Critically, the two countries would also start talks on constructing a pipeline to deliver natural gas from Israel's offshore Leviathan field to Turkey. Israel needs the export route and Turkey, which currently depends on Russia for 57 percent of its natural gas, needs an alternative supplier.
This agreement should have been made long ago. Erdogan refused, insisting that the Mavi Marmara's goal -- ending Israel's blockade of the Gaza Strip -- must first be achieved. That embargo, however, has eased enormously since it was first imposed in 2007. Israel's defense ministry used to decide which kinds of hummus Gaza would be allowed to import. Now the focus is just on arms and dual-use goods, even if that does involve tight regulation of essentials such as cement.
Israel can afford to further recast the blockade so it focuses purely on security threats and allows Gaza to develop economically -- but that is a matter for Israel and the Palestinians. Erdogan should drop a demand that was always designed to make rapprochement impossible. He has enough troubles of his own.
To contact the senior editor responsible for Bloomberg View's editorials: David Shipley at davidshipley@bloomberg.net.