Editorial Board
Long Live Spain's Radical Center
Whoever wins Sunday's elections should steal policies from the upstart Ciudadanos party.
by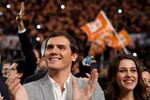 What if, for a change, a protest party challenged for power in Europe not by blaming the nation's woes on immigrants, the European Union or free markets, but by promising to fix the economy? On Sunday, Spanish voters will decide whether that can happen.
Spain, of course, has its radical-fringe Podemos party, a far-left movement similar to Syriza in Greece, which was founded on frustration over the mainstream parties' contributions to the financial crisis. But another upstart outsider party, the pro-business Ciudadanos, has emerged, too -- and in elections this weekend, it may do even better than Podemos.
If opinion polls are to be believed (a significant "if" nowadays), Ciudadanos may place a close third to the ruling Popular Party and its traditional Socialist rivals. Ciudadanos's economic agenda includes reforming labor contracts, building a modern education system (Spain has the fastest dropout rate in the EU), lowering the corporate tax rate further to 20 percent, shrinking the public-sector workforce, and offering tax credits to the working poor to encourage employment.

More broadly, Ciudadanos promises to end binary politics in a country still divided by memories of whose grandfathers fought on which side of the Civil War, and focus instead on creating prosperity. In schools, for example, that would mean caring more about math literacy than how religion is taught, or what language is spoken in classrooms.
Ciudadanos also promises an end to scandals, a lasting concern for a government plagued by corruption. A TV debate this week between Prime Minister Mariano Rajoy and his Socialist counterpart, Pedro Sanchez, was dominated by the question of whether Spain's prime minister is sufficiently "decent" to govern.
Economists seem to agree that Spain's economy would benefit most from a coalition government that includes Rajoy's Popular Party and Albert Rivera's Ciudadanos. But who forms the next government is less important than what it does to make Spain's economy more competitive. If Ciudadanos loses, the winners should borrow liberally from its platform.

There is at least one wider lesson for the rest of Europe in the rise of Cuidadanos: It was possible only because Rajoy did some of the right things when it counted, acting quickly to clean up the country's banks while beginning to make Spain's labor market more flexible and its public sector workers less expensive. There's a lot more to do, but Spaniards have reason to hope that a government with mainstream ideas can restore prosperity -- so long as it's radical enough to carry them out.
--Editors: Marc Champion, Mary Duenwald
To contact the senior editor responsible for Bloomberg View's editorials: David Shipley at davidshipley@bloomberg.net .
Before it's here, it's on the Bloomberg Terminal.
LEARN MORE