view
The Fed Hasn't Convinced the Market
Disagreement about rate increases could lead to more volatility.
by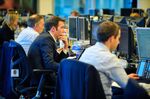 For all its clarity and predictability, the Federal Reserve's decision to raise short-term interest rates hasn't resolved a major point of disagreement between the central bank and markets: the path of future rate increases.
In projections that accompanied Wednesday's monetary policy decision, Fed officials expressed confidence that a growing economy will justify a significant increase in rates during the coming year. Their median forecast for the central-bank's short-term target at the end of 2016 was 1.375 percent. By some measures, that level could actually be above neutral, meaning the Fed would be hitting the economic brakes.
Markets, by contrast, appear less sanguine. As of Wednesday afternoon, prices of fed funds futures contracts, which traders use to bet on the path of interest rates, implied a target rate of only 0.835 percent in December 2016. Combined with relatively low expectations for inflation, this indicates that the market thinks the economy will be weaker than the Fed predicts -- or that the central bank will revise its view of the rate consistent with stable growth and inflation. Here's how that looks:
As the chart shows, the Fed and the market are slightly more in agreement than they were in September, the last time the central bank published official forecasts. Both have lowered their projections during the past couple years, though the futures market reversed course a bit in recent months -- probably reflecting the growing realization that the Fed would finally initiate liftoff this month.
Still, the persistent gap means that either the Fed will have to change its forecasts further or the market will be proven wrong. In the latter case, expect more volatility.
To contact the author of this story:
Mark Whitehouse at mwhitehouse1@bloomberg.net
To contact the editor responsible for this story:
James Greiff at jgreiff@bloomberg.net
Before it's here, it's on the Bloomberg Terminal.
LEARN MORE