China
Should You Fear Your Hoverboard?
China's good at churning out new products en masse -- too good.
by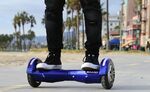 Hoverboards are the hot gift this holiday season. Perhaps too hot, according to the U.S. Consumer Product Safety Commission. In recent weeks, the commission has received at least 10 reports of the motorized, self-balancing scooters bursting into flames; new reports are "increasing daily." In response, Amazon has de-listed most hoverboards, and airlines are banning them from planes. Under fire, the commission's launched an immediate investigation.