Climate Change
Electric Cars Are One Thing. But Giving Up Meat?
The Paris climate talks didn't cover one touchy issue: consumption.
by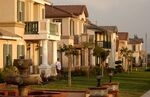 The good news from Paris is pretty good: Rich and poor countries now agree to emit less carbon dioxide, and have pledged initial targets for reducing those emissions. Here's the bad news: The gap between the pledged targets and what's needed is so big that closing it might not be possible with better technology alone.