Editorial Board
This Is a Test of the Shadow Banking System
Turmoil in debt markets offers insight into what's good -- and what's not.
by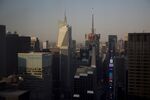 It's hard to know how bad the latest turmoil in the market for risky corporate debt will become. Already, though, it offers some insight into what's good -- and what could be better -- about the so-called shadow banking system.
Over several years following the 2008 recession, in an effort to reap better returns amid extremely low interest rates, investors piled into higher-yielding debt issued by companies with relatively shaky finances. This is a classic example of shadow banking: People put their savings into various types of funds, which in turn provided hundreds of billions of dollars in financing to companies, largely bypassing traditional banks.
Now, inevitably, the cycle is turning. Investors are fleeing from funds that focus on high-yield bonds, precipitating sharp price declines and presenting portfolio managers with the difficult task of finding buyers for securities that rarely trade. As a result, some funds, including a mutual fund run by Third Avenue Management, have frozen withdrawals as they raise the necessary cash. Others may follow.
So what does this tell us? For one, it suggests that shadow banking can play an important role in making the financial system more resilient. Unpleasant as Third Avenue's troubles may be for its investors, the broader repercussions are limited. That's in part because mutual funds can't use nearly as much borrowed money, or leverage, as banks typically do. As a result, the funds are very unlikely to end up owing more than their assets are worth -- a disastrous outcome that, if it happened at a large institution or at many smaller ones, could destabilize the entire financial system and necessitate taxpayer bailouts.
That said, mutual funds aren't alone in holding risky corporate debt. Large quantities of loans and bonds, as well as derivative contracts linked to them, reside in various other nonbank institutions -- such as hedge funds -- that can be highly leveraged and also active in other markets, making them potential conduits for contagion. Regulators have a hard time knowing where the risks are concentrated in this truly shadowy realm, in large part because their areas of responsibility are fragmented and they lack incentives to share information.
One obvious solution, in which Congress has unfortunately taken no interest, would be to give the Financial Stability Oversight Council more power to shed light on dark corners and more authority to mitigate emerging risks. Beyond that, regulators should make use of tools -- such as limits on the amount of money that can be borrowed against securities -- that reduce the likelihood of distress among all financial-market participants, no matter what form they take.
Critics of financial reform tend to portray the shadow banking sector as something to fear, a place where risks will go to hide if regulators are too tough on banks. The example of high-yield mutual funds, though, suggests that's not entirely true. Where genuine dangers do exist, legislators and regulators can and should act to address them.
(
Corrects description of funds freezing withdrawals in third paragraph.
)
--Editors: Mark Whitehouse, Clive Crook.
To contact the senior editor responsible for Bloomberg View's editorials: David Shipley at davidshipley@bloomberg.net .
Before it's here, it's on the Bloomberg Terminal.
LEARN MORE