2016 Elections
GOP Debate Strategy for the Desperate
The 2016 long shots have a choice: Attack Trump, Cruz or Rubio?
by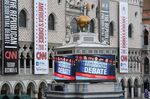 Yes, the spotlight in Las Vegas will be on Donald Trump, Ted Cruz and Marco Rubio. Going into Tuesday's debate, they rank in the top three (in various orders) nationally and in both Iowa and New Hampshire.
But the other candidates are the ones who should be running around naked to catch everyone's attention, whether in the prime-time event or the undercard debate. We're only seven weeks away from the Iowa caucuses, where Ben Carson, Mike Huckabee and Rick Santorum probably need to finish at least third if they want to continue. Carson is polling in fourth place there and falling rapidly in HuffPollster's current estimate, while Huckabee and Santorum, both relegated to the early debate, appear dead in the water. 
Ted Cruz would seem to be their obvious target. He's the one with their potential voters, although Huckabee and Santorum would be happy to drain from what's left of Carson's support. But attacks on fellow social conservatives could backfire with voters in Iowa. So the long shots might be reduced to going after Trump.
Other Republican candidates are less reliant on Iowa's social-conservative vote, and would do well to match John McCain's fourth place finish in 2008, or at least his fifth-place finish behind several weak candidates in 2000. John Kasich, Chris Christie, Jeb Bush and Carly Fiorina will need as much media attention as possible to go on and finish strong in New Hampshire, probably a solid third-place finish or better, if they want to continue on to South Carolina.
It's even less clear whom they should attack. One another? Rubio, who stands in their way? Trump, as the easiest route to attention? Cruz, to remind moderates and even mainstream conservatives how extreme he is?
Rand Paul is a special case. Will he be in it all the way, replicating his father's ability to win 10 or 15 percent of the vote in most states? He currently doesn't appear to have much hope of doing that, and has a Senate re-election campaign to worry about. I assume he'll be out early, unless he moves up sharply, and even that may not be enough to keep him in the race. His strategy is presumably to continue his swing to the hard-core libertarian path and hope his voters return to him. (Of course, any candidate has the option of remaining in the race even if his or her hopes of winning have collapsed.) 1
The candidates who do well or at least beat expectations get a lot more media attention immediately after a primary or caucus, and strong support from party actors can magnify this effect. All that, in turn, helps candidates do well in the next event.
The long shots need all the buzz they can get to fill the weeks before the next GOP debate, on Jan. 14. It's time for them to launch whatever fireworks they have remaining in 2015.
To contact the author of this story:
Jonathan Bernstein at jbernstein62@bloomberg.net
To contact the editor responsible for this story:
Katy Roberts at kroberts29@bloomberg.net
Before it's here, it's on the Bloomberg Terminal.
LEARN MORE