Latin America
Fed Rate Hike Won't Doom Latin America
Some countries have prospered despite a pricier dollar.
by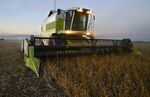 It's true that any decision this week by the U.S. Federal Reserve to raise interest rates will not be good news for Latin America. But not all the countries in the region have fared poorly when the dollar has become more expensive. Even during those times, some Latin American countries have achieved relatively substantial and sustained growth. The key to averting a regional depression, both in economic output and the public's mood, is to remember the lessons of that past.
Since the beginning of financial globalization in the 1970s, periods of high U.S. interest rates have tended to correspond with low prices for raw materials --  South America's principal exports, as well as a key source of Mexico's fiscal revenue. Thus, these periods have generally been associated with bad times for Latin America: During the late 1970s and '80s for instance, the U.S. revalued its currency by as much as 20 percent to fight inflation; the world prices of basic commodities plunged to levels similar to today's, though not quite as low as at the end of the 1990s and early 2000s.  
Unfortunately, many Latin American countries were dizzy with debts owed to banks recycling oil money from the Middle East. Rising U.S. interest rates made that debt burden much harder to bear and helped drive Latin America into the wilderness of its so-called lost decade. In the first half of the '80s, only Colombia managed to avoid years of economic shrinkage, expanding by a modest 2 percent annually between 1981 and 1985 thanks to not over-borrowing in the '70s.
In the second half of the '80s, the U.S. began devaluing its currency slightly, but kept  interest rates at more than 6 percent. That relative devaluation stimulated commodity prices, and some Latin American countries were able to recuperate. In addition to Colombia's oil economy, Chile's mining economy and the agricultural economies of Costa Rica and Paraguay also revived. Although many observers touted the University of Chicago-inspired Chilean miracle at around this time, the country's bet on export diversification with a competitive exchange rate was made possible by a military regime that repressed the nation's unions. Furthermore, toward the end of Augusto Pinochet's dictatorship (1973-1990), Finance Minister Hernán Büchi (who actually received his business degree from Columbia University), broke with the "Chicago Boys" by moderating cuts to import tariffs and controlling interest rates by means of Central Bank interventions, rather than leaving them to the market. Paraguay was also under a dictatorship, Costa Rica was just beginning to rekindle the social progress of earlier decades, and Colombia was suffering from its worst periods of drug violence.
After cheapening in the early '90s, the dollar began to get more expensive once more, a period marked by the eruption of Mexico's debt-driven Tequila Crisis in 1994, the same year in which the North American Free Trade Agreement took effect. In the beginning, commodities did fairly well. In fact, they became increasingly expensive as emerging economies came into the spotlight. But following the Russian crisis of 1998, gas, minerals and food reached historic lows. During this period of high U.S. interest rates between 1995 and 2001, only two Latin American countries maintained economic growth without crisis years: Guatemala and Nicaragua, two of the poorest countries in the region, then and now. Both importers of raw materials, they benefitted from lower prices, and they also launched a textile industry geared toward exporting to the U.S., then a growing market.
Unlike in the 1980s, when the flow of financing to Latin America was interrupted, loans remained available in the '90s; but with the exception of those made to relatively prudent Chile, Colombia, and Uruguay, they were at high rates. This high-cost financing partly explains the crisis in multiple Latin countries at the end of that century and beginning of this one, notes José Antonio Ocampo, professor at Columbia University and former Colombian finance minister.
Perhaps the most paradoxical period was that of 2004 to 2007, when U.S. interest rates rose gradually to 5 percent while commodities first stabilized at prices higher than those of the 1998-2002 slump and subsequently increased. During this period, most Latin American economies grew substantially. So it was with Argentina, Bolivia, Brazil, Chile, Colombia, Costa Rica, Panama, Peru, Uruguay, and Venezuela. What happened?
It's one thing when the Fed raises interest rates to fight high inflation, as happened in the '80s, and have this reduce raw material prices. It's another to have the Fed do so as the U.S. economy was just growing. "Certainly Latin American countries can do well with high U.S. interest rates if these rates reflect a healthy U.S. economy. If instead they show that the American economy is not in such good shape, we may fare poorly," acknowledges Uruguayan economist Ernesto Talvi. Until the onset of the 2008 financial crisis, U.S. demand for commodities was steady, and China, with its voracious need for raw materials, was coming on stage. In those years, the risk premiums of Latin American countries dropped significantly, and their access to loans improved. Yet having learned their lesson from the lost decade, none of the Latin governments took on too much debt.
There were other policy factors at work, too. Jorge Mariscal, the Emerging Markets Chief Investment Officer at UBS Wealth Management, cites the example, now devalued, of Brazil and its growth based on "a strong redistribution of income, a major expansion of the middle class and increased government lending." At the time, Latin America's biggest economy was evidence that strengthening the internal market could create a kind of virtuous circle. If interest rates rise due to U.S. growth, as is the case now, presumably commodities will continue to be necessary to the world's largest economy and to others, and they will not decrease in price any more than what they already have, says Mariscal.
Latin American countries are therefore not doomed in this new and difficult time. If the U.S. economy continues to thrive, Mexico, Central America, and the Caribbean -- which are more tied to the U.S. economy than South America's economies are -- will benefit.
Of course, history suggests that even this linkage has its limits. What is clearly demonstrated is that periods of higher-cost financing, when it is not possible to earn much money by selling commodities, are better dealt with in Latin America when countries have less debt, when they diversify their exports in terms of products and destinations, and when they strengthen their internal market. Naturally these three conditions should have been achieved during times of relative plenty. They can't be achieved from one minute to the next. That painful lesson is one that some, but not all, Latin American economies are now about to re-learn. 
To contact the author of this story:
Alejandro Rebossio at alrebossio@gmail.com
To contact the editor responsible for this story:
James Gibney at jgibney5@bloomberg.net
Before it's here, it's on the Bloomberg Terminal.
LEARN MORE