Shopping
Costco Is a Bigger Disrupter Than Amazon
Warehouse clubs changed shopping more than e-commerce has.
by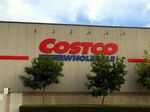 During the past two decades, retailing in the U.S. has been transformed by a dramatically different new sales channel, say University of Chicago economists Ali Hortacsu and Chad Syverson.
They don't mean e-commerce. The biggest change in retailing, Hortacsu and Syverson argue in a new article in the Journal of Economic Perspectives, has instead been the rise of warehouse clubs and supercenters:
Examples include the well-known warehouse clubs Costco and Sam's Club as well as the grocery-plus-department-store formats found in Walmart Supercenters. This segment of the retail sector is just plain large. Its four largest firms accounted for almost 8 percent of retail sales in 2012. This is almost 50 percent more than all e-commerce retail sales in 2012.
Of course, 2012 was three years ago. E-commerce's share of retail sales has continued growing since then, according to the Census Bureau, although it still hasn't hit 8 percent. And Hortacsu and Syverson's article, based as it is on historical data, is inevitably backward-looking. Consider, for example, these two Seattle-area neighbors:

The gap in profits is even bigger, mainly because Amazon isn't all that interested in making money. Yet Amazon now has a market cap of $314 billion to Costco's $71 billion. Why is that? Well, Amazon is clearly growing much faster. Also, while Costco is the leading warehouse club chain, it has major head-on competitors. No other company is even remotely close to Amazon in online retail, plus Amazon owns a non-retail business with potentially higher profit margins (Amazon Web Services).
Still, if you're trying to explain why shopping malls and smaller "big box" chains such as Best Buy have struggled in recent years, warehouse clubs and supercenters are at least as much to blame as e-commerce. This also implies, though, that e-commerce is in its infancy. Retailing is surely due for far more digital disruption than it has seen so far.
It could take a while, though. Here are Hortacsu and Syverson's projections, based on the trends up to now in the Census Bureau's e-commerce data, of when various retailing categories will be swamped by the digital tide:

Note that the three product categories at the bottom, the ones expected to go digital last, also happen to be the three biggest ones by far. Clothing, accessories and footwear; drugs, health and beauty; and food and beverages all pose special challenges for online selling. How and if they are solved will shape the future of the retailing. It's fashionable right now to say that "omnichannel" (aka "bricks and clicks") retailing is the future for these categories, and maybe it is. But would you have predicted in the early 1990s that giant no-frills warehouses were the future of retailing?
This column does not necessarily reflect the opinion of the editorial board or Bloomberg LP and its owners.