Editorial Board
A Climate Deal Worth Celebrating
The Paris agreement has brought the solution to global warming within reach.
by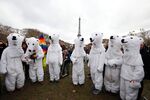 Governments have taken a vital step in confronting global warming. Until now, there was no universal commitment to address the problem, no common target and no system for measuring progress. The Paris climate talks provided all three.
That's enough to justify the claim that the agreement reached this weekend was a breakthrough. Yet, as governments acknowledged, their pact won't succeed without further effort. Paris is a promising departure. Getting to the right destination is another matter.
For the first time, almost all the world's governments -- including all the big greenhouse-gas emitters, rich and poor -- have come together and recognized their obligation to act. They adopted the goal of limiting the rise in global temperatures above pre-industrial levels to 2 degrees Celsius, and say they'll strive to do better than that, holding the increase to 1.5 degrees. And they agreed to devise a comprehensive and transparent system for measuring progress, with reviews every five years.
Critics of the agreement say that the national plans submitted so far aren't bold enough to hit those goals. They're right. But the good news is that governments aren't pretending otherwise: They agree they'll need to do more -- and, in effect, have obliged one another to say how. Their commitment to periodic reviews will make a big difference by bringing public opinion to bear more forcefully. It will be easier to see how governments are doing.
As well as creating a global system of goals and plans, the agreement commits rich countries to be more generous in helping poor countries join in. An earlier promise -- $100 billion in assistance for cutting carbon emissions and adapting to climate change -- will be scaled up. That's fair: Climate change is driven by the total stock of greenhouse gases in the atmosphere, not just by the flow of new emissions, and the world's rich countries are mostly responsible for what's already there.
The biggest benefit of the Paris agreement may lie less in what governments themselves have promised to do, important as that is, than in the signal it sends to everybody else. More credibly than before, the world is organizing itself around a common commitment to curb its use of fossil fuels. That has implications for every decision-maker -- consumers and investors alike, whether they're buyers of power or sellers. Clean energy, and more efficient use of energy, now looks even more attractive than before. A new energy future is coming into focus.
By itself, the Paris agreement won't solve the problem of climate change. It's worth celebrating nonetheless. Perhaps for the first time, it has brought the solution within reach.
--Editors: Clive Crook, Michael Newman.
To contact the senior editor responsible for Bloomberg View's editorials: David Shipley at davidshipley@bloomberg.net .
Before it's here, it's on the Bloomberg Terminal.
LEARN MORE